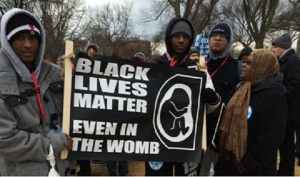 According to the Centers for Disease Control's most recent Abortion Surveillance Report, Black Americans make up 13.3% of the population, but now comprise 35% of reported abortions. To combat the high rate of abortion in the African American community, Human Coalition and the Church of God in Christ (COGIC) denomination have collaborated to launch a new website aimed at engaging Christians in an effort to end abortion in the Black community.
Family Life Campaign is the new Church of God in Christ website that is dedicated to introducing COGIC's 6.5 million followers to the initiative. The site was created by COGIC's strategic partner, Human Coalition, and features powerful video stories, life-affirming resources, and access to Human Coalition's prayer app.
The site contains several uplifting videos of courageous women. These videos can be shown in a church setting or easily shared through social media to convey the beauty of life. The women featured in the videos all courageously chose life for their children amidst difficult economic and relational circumstances.
Read the full article here.
Photo credit: Life News – Steven Ertelt