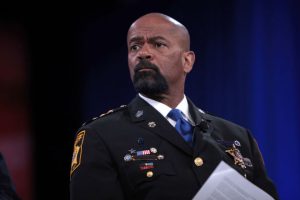 The Politico reported that President Donald Trump might appoint outspoken lawman Sheriff David Clarke to the department tasked to protect the homeland.
The sheriff is not a fan of the former president or his administration, and he's openly said he will help President Donald Trump to enforce the law.
He's said jurisdictions that refuse to comply with federal detainers for illegal aliens are getting people killed. Sheriff Clarke believes we should seal our southern border to protect Americans over foreigners.
Sheriff Clarke dubbed the Black Lives Matter movement "Black Lies Matter," and noticed the group doesn't protest when blacks in cities like Chicago kill each other every week.
Some suspected the sheriff would have a role in the Trump administration, considering that he's a Trump supporter and a high-profile, tough-talking elected official who's an advocate for law enforcement from the lowest to the highest level. Speculation has ramped up. From Politico:
Clarke is in line to be appointed as assistant secretary at DHS' Office of Partnership and Engagement, which coordinates outreach to state, local and tribal officials and law enforcement. The position does not require Senate confirmation.

A senior administration official cautioned it's "not a done deal yet."
…
He has come under fire in recent days amid revelations about the case of Terrill Thomas, who died of dehydration last year at the Milwaukee County Jail after guards turned off the water in his cell.

Wisconsin Gov. Scott Walker, a Republican, has said he won't remove Clarke from office over Thomas' death.
As far as BCN knows, Sheriff Clarke hasn't publicly commented on the Thomas incident.