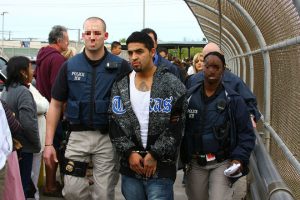 Thomas Homan, acting director of Immigration and Customs Enforcement (ICE), sounds pleased that President Donald Trump is doing something about illegal immigration.
ICE intends to crack down on cities that resist arresting and detaining foreigners who've entered and/or remain in the country in violation of federal immigration laws.
"Now they have meaning to their jobs," Homan said about ICE and border patrol agents. "What this president has done is taken the handcuffs off of law enforcement officers who are charged with enforcing immigration laws."
The government will hire more agents and put more resources into strict enforcement. From the Daily Caller:
Homan noted that, since President Donald Trump took office, illegal border crossings have fallen to their lowest level in a decade. Despite a slight uptick in border arrests — a proxy for illegal immigration — illegal crossings of the U.S.-Mexico border in June were 53 percent lower than in the same month last year, a result Homan attributed to Trump's orders on immigration enforcement. (RELATED: Arrests Of Illegal Aliens At Southwest Border Jump 9%, Remain Well Below 2016 Level)

"You can like President Trump, not like him, like his policies, not like his policies, but one thing no one can argue with is the effect they've had," Homan told the Washington Examiner.

As fewer illegal immigrants try to cross the southern border, ICE is turning its attention to those who are incarcerated in jails, illegally working jobs and at large in the interior of the country. While the agency is not planning specific operations involving sanctuary cities, more manpower will be devoted to cases where the local jurisdiction doesn't turn criminal aliens over to immigration agents, an ICE official told The Daily Caller News Foundation.
The fear of enforcement. A tough-talking president. An attorney general with respect for the rule of law. These things have made a difference. Enforcing the law will make everyone safer.
Homan argued that sanctuary cities are actually endangering illegal immigrants by forcing ICE agents to track them down in the places where they live or work rather than in jail.

"I'm going to arrest him and anybody else with him because there is no population off the table any more," Homan said, referring to Trump's expanded deportation net. "So if you really want to tap down the fear in the immigrant community, I would think the counties would want me in their jails."