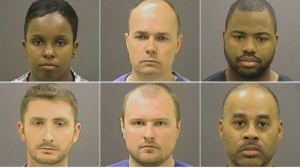 Six police officers in Baltimore (three black and three white) were charged in the death of Freddie Gray, a black man who'd been arrested for possessing an illegal switchblade. Gray died of a spinal cord injury while in custody.
Liberals rioted and accused the police department of "racism."
Officer Edward Nero was acquitted last May. Lt. Brian Rice and Officer Caesar Goodson (bottom right), the black cop who faced the most serious charge of second-degree murder, were acquitted last summer. The prosecutor dropped all charges against the remaining three: Officer William Porter, Officer Garrett Miller, and Sgt. Alicia White.
Five of the police officers sued the prosecutor, state's attorney Marilyn Mosby, for defamation of character, invasion of privacy, false imprisonment, and malicious prosecution.
Last month, a judge ruled that the case against her could go forward. Mosby had asked for a stay on discovery, a process that requires parties to turn over documents related to the case. For Mosby, this might include evidence her office collected against the officers. From the Baltimore City Paper:
Many cheered Mosby's decision to charge the police officers. But the cases fell apart; prosecutors simply did not have evidence the police officers did anything illegal, or even wrong, save for their habitual failure to seat-belt prisoners like Gray inside the transport van.

But because Mosby stepped outside of the normal processes, she has apparently opened herself up to this lawsuit. Eli Hager of The Marshall Project summarizes:

"Of course, a prosecutor who does her own investigation instead of relying on the officers involved, who does not rely on the grand jury process, and who is willing to risk her co-dependent relationship with beat cops in the process, is exactly what many activists have been demanding. But it's precisely because Mosby took each of those atypical steps that she is a defendant now."