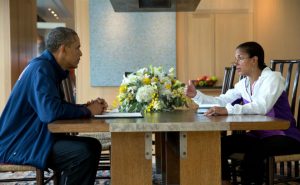 In a story first reported by Mike Cernovich, former National Security Adviser Susan Rice has been outed as the person who unmasked the names of people associated with President Donald Trump's transition team caught up in intelligence gathering but who weren't the targets of investigations.
The names of Americans caught up in "incidental" surveillance are supposed to be reported anonymously. Did Rice spy on members of President Trump's transition team, and was the information needed for national security or political reasons? Did she share this information?
Upon learning of Rice's requests, the present National Security adviser alerted Rep. Devin Nunes, the chair of the House Intelligence Committee, who claimed the government had spied on members of President Trump's transition team.
The Daily Caller reported more developments:
Former President Barack Obama's national security adviser Susan Rice ordered U.S. spy agencies to produce "detailed spreadsheets" of legal phone calls involving Donald Trump and his aides when he was running for president, according to former U.S. Attorney Joseph diGenova.
…
Other official sources with direct knowledge and who requested anonymity confirmed to TheDCNF diGenova's description of surveillance reports Rice ordered one year before the 2016 presidential election.
…
Joining Rice in the alleged White House operations was her deputy Ben Rhodes, according to Fox.
Michael Doran, former senior director of the National Security Council, said "somebody blew a hole in the wall between national security secrets and partisan politics," and if true, it's "a felony. And you can get 10 years for that. It is a tremendous abuse of the system. We're not supposed to be monitoring American citizens. Bigger than the crime, is the breach of public trust."
Naturally, Rice denies she did anything wrong.
"The allegation is that somehow, Obama administration officials utilized intelligence for political purposes," she told MSNBC news. "That's absolutely false. The notion, which some people are trying to suggest, that by asking for the identity of the American person is the same is leaking it — that's completely false. There is no equivalence between so-called unmasking and leaking."