When I became Mayor of Cincinnati in 1979, I took an oath pledging to protect the citizens under my care. As Treasurer of Ohio and later as its Secretary of State, I took nearly identical oaths of public service.
Every local official and governor makes similar binding commitments. Their primary responsibility under oath is adherence to the Constitution, and "performing and discharging the duties" of the office, including the protection of the lives, prosperity, and property of their citizens.
No oath includes a directive for mayors or any official to sacrifice other people's safety in order to achieve a political goal in an upcoming election. If breaking an oath of service was a criminal offense, many of our liberal politicians would be serving a life sentence in jail.
Damage to American cities from recent riots and looting is likely to exceed $ 2 billion. That does not include the incalculable personal cost to individuals who have lost life savings and livelihoods. It is difficult to afford business insurance in high crime urban areas, and many minority and immigrant business owners in decimated cities can't get insurance because of riots. They are left with no savings, income, or hope of financial recovery. Don't their incomes matter? Their families? Their bills?
Minneapolis, Seattle, Portland, New York City, and Louisville have four things in common: lawlessness and destruction, terrified citizens, Democrat mayors and governors, and governing executives who do little to keep them safe.
The end goal of these officials appears to be allowing local violence to go unchecked so they can blame it on the President of the United States. In other words, it's about votes.
As violent protestors were destroying Minneapolis, Mayor Jacob Frey asked them to social distance, then asked President Trump for federal (taxpayer) aid to cover the millions in damage caused by the unchecked riots.
Seattle Mayor Jenny Durkan referred to violent rioters as "patriots," called for defunding police, and then claimed Antifa's use of explosives was President's Trump's way of practicing for martial law.
After more than 120 days of riots by leftist groups causing tens of millions in damage and police overtime, Portland Mayor Ted Wheeler warned "right wing" groups not to protest in his destroyed city. Not far left enough for the far leftists burning Portland, progressives called for Wheeler's resignation while he blamed Trump for all of it.
New York City Mayor de Blasio recently cut $1 billion from the city's police budget. When the city's murder and shooting rates doubled this summer, de Blasio blamed Covid, not his abandonment of the police. As President Trump balks at saddling all U.S. taxpayers with the cost of de Blasio's malfeasance, the mayor claims this "makes no sense."
Well before the Grand Jury convened to investigate the death of Breonna Taylor and all the facts of the tragic incident were revealed, Louisville Mayor Greg Fischer authorized a payout of $12 million to her family. Fischer's response to the riots in May and September was virtually nonexistent and led the City Council to request his resignation.
Liberal governors Tim Walz (D-MN), Jay Inslee (D-WA), Kate Brown (D-OR), Andrew Cuomo (D-NY) and Andy Beshear (D-KY) offered no criticism of these mayors' lack of action in the face of violence.
It's not just these five cities with unprotected citizens. An analysis of recent crime data shows that of the 20 cities with the highest projected murder rates, 18 are controlled by liberal Democrats.
Fadi Faouri is a Jordanian immigrant who runs a Louisville smoke shop. After his store was torched, he was accosted by a mob demanding he say "black lives matter." He refused.
Appearing on Tucker Carlson Tonight, Faouri was shown telling a BLM protestor, "I only see you as a human being." His final comment to Tucker was, "I'm a free man."
Mr. Faouri suffered under politically-motivated lawlessness. As America tries to recover from destruction caused by officials who arguably chose to vilify a political opponent over quelling riots, we could use a lot more Faouris.
As the former mayor of a major metropolitan area, I watch and grieve as leftist-run cities become killing fields. Nearly 90 percent of African Americans murdered in the U.S are killed by other African Americans. Between 2017-2019, there were 1,226 white persons killed in police-involved shootings and 487 black persons. Local and state officials need to acknowledge these truths and focus on honest problem-solving.
Liberal mayors must be held to their oaths and elevate the safety of their citizens above their quest to achieve socialist political objectives.
At the most basic level, this means upholding a system of law and order that protects the rights of each American. No citizen deserves, or should expect, anything less.
Photo credit: By Ajderrick – Own work, CC BY-SA 4.0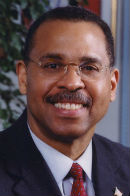 Ken Blackwell served as mayor of Cincinnati, Ohio Treasurer, a U.S. Ambassador to the UN; he currently serves on the board of directors for Club For Growth.