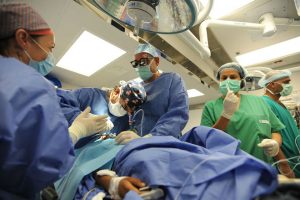 Thank God for the Kardashians! I bet you thought you'd never hear me say that. That makes the two of us. The Kardashian name is synonymous with big butts, beautiful faces, glitz, glamour and deep pockets. After Kylie Jenner's handsome donation of $1 million to Smile Train, a nonprofit organization whose mission is to provide support and corrective surgery for children in developing countries with the birth condition known as cleft palate, according to ET online.com, you can add the word "generous" to that list.
Kylie, the 19-year-old reality TV star and youngest daughter of Kris and Bruce Jenner (now living as Caitlyn), was photographed holding baby Mia at the Delgado Clinic in Lima, Peru. Baby Mia had recently undergone surgery for her cleft palate at the clinic. Fans of Kylie Jenner who grew up watching the Kardashians may know that she was very insecure about her looks on the show, particularly concerning her lips (don't ask me how I know that). Can you imagine all the pressure to look great growing up as a younger sister of the Kardashian brand? I get it, first-world problem. Nonetheless, this explains her own dramatic transformation over the last few years due to plastic surgery. This may also explain why she's gravitated towards an organization like Smile Train that specializes in repairing cleft lips/palates for children in developing countries who are often raised in incomprehensible living conditions.
This wasn't the only time Kylie helped out Smile Train. Just last year she lent her celebrity and entrepreneurial prowess to the nonprofit by selling $29 special-edition lip kits to raise approximately $500,000 for the organization. ET online explained, that much money can fund 1,800 surgeries for children born with cleft lip and/or palates. 1,800 surgeries!
This story is illustrative of why class warfare doesn't belong in American politics. It's also why capitalism, when practiced properly, is such an amazing force for good. You can have all the money in the world, but that doesn't mean you'll have a heart of compassion and generosity for others. Generosity isn't a math issue; it's an issue of the heart. Can you imagine how much people could help others in need if they utilized their God-given gifts to make money that could be used to help others? It's nice to see people donate their time and talents to charity and nonprofits, but what leftists often and, I'd argue, conveniently forget is that it takes money to provide the resources for these charities.
Put simply, nonprofits need for-profits and people of wealth to thrive.
For all the negatives we may feel about the Kardashian clan, in this case, I want to say kudos to Kylie Jenner for using her celebrity to bring healing to children in need.
Originally published at WND.com

Carl Jackson is a radio talk show host – his web site is www.carljacksonshow.com. Media wishing to interview Carl Jackson, please contact media@wnd.com.
The views expressed in opinion articles are solely those of the author and are not necessarily either shared or endorsed by Black Community News.