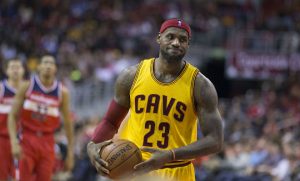 Is it time for LeBron James to begin voting like a Republican instead of voting Democratic?
Real estate has gone up dramatically in Oakland, California, and I'm not talking about the price of housing. The NBA's Golden State Warriors were purchased by business tycoon Joe Lacob in 2010 for a measly $450 million – chump change. Today, thanks to three consecutive trips to the NBA Finals (2015-2017), two of which the Warriors won, the team is currently estimated to be worth $2.6 billion.
If you're an NBA fan at all, you know that Steph Curry, who plays point guard for the Warriors and is also the league's best pure shooter, just signed a contract worth $201 million spread over five years. These once jaw-dropping numbers have become normative for the league since it renegotiated television contracts with the Democratic advocacy networks disguised as sports channels, better known as ESPN (owned by Disney) and TNT (owned by Ted Turner). Thanks to these new contracts with the networks, some of the NBA's most mediocre players have received contracts the league's superstars couldn't fathom just a few short years ago.
Personally, I believe this sets a dangerous precedent for a league that's desperate to create parity. For the next two to three years, NBA teams will be trying to copy the success of the Golden State Warriors and the Cleveland Cavaliers by giving away massive contracts to players who don't deserve the pay. Therefore, evenly distributed competition around the league simply won't happen. Why? Because these other teams don't have dominant superstars named LeBron James, Kevin Durant, Steph Curry, Klay Thompson, Kyrie Irving, Draymond Green and to a lesser degree Kevin Love. Teams can't continue to reward bench players as much as their superstars without expecting to run out of cap space – all but assuring that teams without superstars or who don't draft well will continue to have overpaid rosters that can't compete with the league's best players.
That brings me to social justice warrior and NBA megastar LeBron James. Upon hearing the news of Steph Curry's new deal with the Warriors that made him the highest-paid player in NBA history, LeBron James tweeted this:
"So tell me again why there's a cap on how much a player should get?? Don't answer that. Steph should be getting 400m this summer 5yrs. #JMTs"
The obvious implication of the tweet is that the value of the Golden State Warriors has increased exponentially as a direct result of Steph Curry's rise to the top. Consequently, Steph should be getting a bigger piece of the pie from the ownership. This is proof positive that LeBron James is confused about what capitalism is.
If LeBron thinks Curry should be paid more, he should buy the Golden State Warriors from Joe Lacob for $2.6 billion and give his new employee, Steph Curry, a raise.
Steeped in Lebron's tweet is the social justice mentality that the elite are screwing the little guy. There are two problems with this notion: First, LeBron James is among the elite himself, and he's so out of touch with the average struggling American he doesn't even realize it. Secondly, LeBron James didn't create the league or invest capital to build or purchase an NBA team. The NBA has made it possible for some of America's most underprivileged kids to become among the richest people in the nation. The league has also given James a platform where he's able to make just as much money off the court because of his success on the court. If the NBA didn't exist, what type of money would LeBron be making as an oversized black man?
LeBron is getting greedy because he can. This isn't capitalism! The consumer isn't a part of the discussion! Most NBA salaries aren't based on supply and demand! Who the heck is watching the Brooklyn Nets?! NBA salaries are rising because elitist in media and the NBA struck a TV deal that never considered the plight of the average consumer.
And speaking of the little guy, let's stop pretending like LeBron cares for NBA fans. Ticket prices at the gate will soar due to these ridiculous salaries, pricing most Americans out of their arenas. Parents making an average income who want their sons and daughters to experience what it's like to see their favorite NBA player in person will have to stay home while NBA and media elites quarrel amongst themselves.
I wonder, where's LeBron's tweet that advocates for the consumers?
Originally published at WND.com
Photo credit: By Keith Allison from Hanover, MD, USA – LeBron James, CC BY-SA 2.0, Link

Carl Jackson is a radio talk show host – his web site is www.carljacksonshow.com. Media wishing to interview Carl Jackson, please contact media@wnd.com.
The views expressed in opinion articles are solely those of the author and are not necessarily either shared or endorsed by Black Community News.