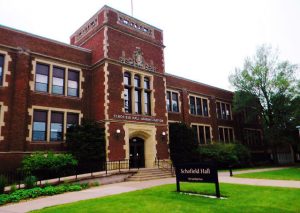 Imagine religious discrimination so pervasive that a taxpayer-funded university won't allow students to receive credit they need to graduate because they volunteered at a church.
That happened at the University of Wisconsin at Eau Claire. The school requires students to do 30 hours of so-called service learning. Two students volunteered to serve as teaching assistants at a Roman Catholic church.
The university denied these students the credits they earned based on a policy prohibiting credit for promoting religious doctrine, proselytizing, or worshiping. From the ADF site:
The University of Wisconsin-Eau Claire has agreed to drop its unconstitutional policies that deny credit to students who fulfill its mandatory community service requirement by volunteering in faith-based activities. As part of a settlement ending a lawsuit that Alliance Defending Freedom attorneys filed on behalf of two students, the university has agreed to lift its restriction that allowed only non-religious volunteer activity to qualify for "service-learning" credit.

"Faith-based service plays a vital and irreplaceable role in our communities," said ADF Legal Counsel Travis Barham. "We commend the university for acknowledging that it cannot apply a double standard in evaluating which students should receive credit in this mandatory program. If it wants to require its students to perform community service, it must treat all forms of it as equally valuable. The Constitution prohibits public officials from targeting religious community service and treating it less favorably than other kinds. Community service—whether it's religious or not—is still community service."
As expected, students received credits for volunteering at a place that kills unborn babies, but until the lawsuit settlement, the University of Wisconsin denied credit to those who volunteered in churches.
Photo credit: By Jon Roanhaus – Own work, CC BY-SA 3.0, Link