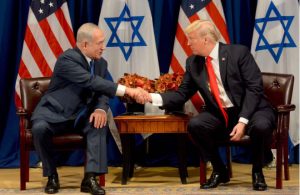 Prime Minister Benjamin Netanyahu met with United States President Donald Trump on Monday in New York. Their meeting centered on Iran's nuclear program, "malign influence in the region," and the peace process with the Palestinians.
A statement from the White House summarized their meeting: "The two sides discussed their continued cooperation across a range of issues and stressed their goals of countering Iran's malign influence in the region and resolving the Syria crisis in a manner consistent with American and Israeli security interests."
In a short press conference together, President Trump addressed the Iran nuclear deal, stating that he had "presented a certain course of action how to do it. There is an American willingness to fix the deal, and I presented possible ways to do it..You'll see very soon."
Prime Minister Netanyahu highlighted the Israel and U.S. alliance as "never been stronger, never been deeper," then addressed the topics both leaders would discuss. "I look forward to discussing with you how we can address together what you rightly called is the terrible nuclear deal with Iran and how to roll back Iran's growing aggression in the region, especially in Syria."
On Israel's growing relations and favor in the region in relation to the peace process with the Palestinians, the prime minister said, "As you said, we will discuss the way we can seize the opportunity for peace between Israel and the Palestinians and between Israel and the Arab world, I think these things go together and we look forward to talking about how we can advance both."
The prime minister spoke of the U.S.'s efforts in support of Israel in the United Nations, stating that "we're going to be speaking tomorrow at the UN, and I want to say that under President Trump, America's position towards Israel with the UN has been unequivocal; it's been strong; it's got both clarity and conviction… I want to thank you on behalf of the people of Israel and Israel's many friends around the world."
Prime Minister Netanyahu was expected to provide additional proof of Iran's nuclear deal violations ahead of President Trump's deadline to decide whether the deal has been violated before Congress.
Following his meeting with the U.S. president, Prime Minister Netanyahu continued meetings with heads of state visiting New York for the U.S. General Assembly, meeting with President Juan Carlos Varela of Panama. The prime minister reported that he "discussed with him the importance that Israel ascribes to strengthening bilateral cooperation as well as the considerable potential of such cooperation." Prime Minister Netanyahu officially invited the president to visit Israel.
The prime minister just finished the first diplomatic tour by an Israeli head of state in Latin America, holding meetings with the presidents of Mexico, Colombia, Argentina, and Paraguay.
Following his meeting with President Carlos, he met with Prime Minister Shinzo Abe of Japan, where they discussed "the strengthening of economic cooperation with emphasis on – inter alia – cyber and he opening of direct air links."
Prime Minister Netanyahu then met with Rwandan President Paul Kagame and "discussed deepening cooperation with a third country."
Again making history, the prime minister met with President Abdel Fattah el-Sisi of Egypt overnight, their first official and public meeting since el-Sisi's began his term. Prime Minister Netanyahu refused to comment on their meeting. His office later released a  statement: "President el-Sisi expressed a willingness to assist the efforts towards peace between Israel and the Palestinians and in the region."
Photo credit: Netanyahu Facebook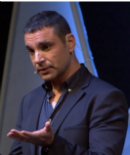 Amir Tsarfati, a Jewish Christian, is the founder and president of Behold Israel, a news site to correct the scarcity in trustworthy reportage on issues and events impacting Israel, and to resolve the uncertainty about who or what to believe.