Hamas praised the United Nations' failure to pass a resolution sponsored by the United States condemning Hamas and its ongoing terror against the State of Israel.
While the resolution received a majority of votes, the draft resolution did not pass. Eighty-seven members voted in favor of the resolution, with 57 against and 32 abstaining. A two-thirds majority rather than a simple majority was required for the resolution to pass after Kuwait requested a vote, which passed, to change the voting procedure.
Hamas official Khalil al-Haya referred to the resolution failing as a "victory" and an act of "resistance in spite of American bullying." Both Hamas and Palestinian Islamic Jihad released statements vowing to continue its resistance against the "Israeli occupation."
U.S. Ambassador to the United Nations, Nikki Haley, addressed the draft resolution, referring to the growing support for Israel and against Hamas at the UN stating, "87 countries said Hamas was a problem. The tide has changed. It is a new day at the UN." Ahead of the vote, Haley spoke of the U.N.'s anti-Israel agenda.
"The General Assembly has passed over 700 resolutions condemning Israel. And not one single resolution condemning Hamas. That, more than anything else, is a condemnation of the United Nations itself."
Prime Minister Benjamin Netanyahu also highlighted the majority-vote in favor of the resolution, releasing a statement: "While [the resolution] did not achieve a two-thirds majority, this is the first time that a majority of countries have voted against Hamas and I commend each of the 87 countries that took a principled stand against Hamas. This is a very important achievement for the US and Israel. I thank the American administration and US Ambassador to the UN Nikki Haley for the initiative."
Haley will finish her role as ambassador at the U.N. at the end of the year. President Donald Trump confirming on Friday that he will nominate U.S. State Department Spokeswoman Heather Nauert to replace her.
Photo credit: BMN Network (Creative Commons) – Some rights reserved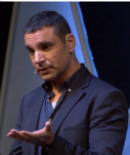 Amir Tsarfati, a Jewish Christian, is the founder and president of Behold Israel, a news site to correct the scarcity in trustworthy reportage on issues and events impacting Israel, and to resolve the uncertainty about who or what to believe.