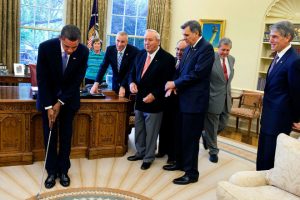 The National Urban League issued a "report card" for President Barack Obama — who'll leave the White House soon — and gave him less than the group's highest rating.
"While we scored many of the administration's achievements with our highest rating, 'Superior,' President Obama's tenure as a whole had shortcomings due to some notable missed opportunities and outright failures, such as the economic development of urban centers, gun violence and the foreclosure rate and bank closure rate in communities of color and low-income neighborhoods," president and CEO Marc Morial wrote (PDF). "On these and other issues, we rated the Obama administration 'Fair' or 'Poor.' Our evaluation springs from a consideration of his accomplishments balanced against the conditions under which he served. The National Urban League has given the Obama Administration an overall rating of 'Excellent,' our second-highest rating." (emphasis in original)
Though the National Urban League gave Obama a superior rating for economic growth, they rated him excellent for reducing the poverty rate among poor blacks — claiming a 2.1 percentage drop. The organization rated him fair for the economic development of urban centers.
"The Obama Administration did not advance a comprehensive urban policy to strategically target federal resources to address urban economic distress, which is most often reflected in inequality in employment, income, wealth, housing and most other measures of social well-being."
President Obama did only a "fair" job addressing gun violence in Chicago, his home town.
"While the President took his own actions to address gun violence announced in an impassioned January 5, 2016 speech, he did not advance a federal response to the fatal gun violence in Chicago. It was a missed opportunity to use his platform on this most critical issue that has implications for all urban communities."
Over 700 people were shot and killed in Chicago in 2016.
Photo credit: U.S. Embassy The Hague (Creative Commons) – Some rights reserved