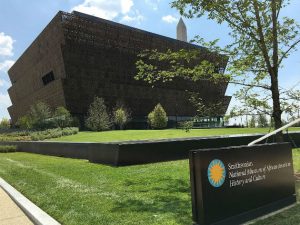 Raffi Williams, the conservative son of liberal Fox News contributor Juan Williams, reported on something strange about the Smithsonian's new National Museum of African American History and Culture — the absence of an important black American.
U.S. Supreme Court Justice Clarence Thomas is the second and presently the only black justice. He should have an exhibit that notes these and other facts.
But Williams wrote that the museum treats him "like a mere footnote while heralding the woman who accused him of sexual harassment, Anita Hill."
Penny Starr of CNSNews reported on her experience at the museum. An excerpt (emphasis added):
After touring the new museum and exploring the website, which contains information on all the exhibitions in it, CNSNews.com asked the Smithsonian why Thomas, Brooke and eight other prominent men and women are not included in the museum.

CNSNews.com asked: "Many prominent African Americans are not included in the museum, most notably Supreme Court Justice Clarence Thomas … Can [the institute say] why Thomas and the others listed below are not a part of the museum exhibits?"

Linda St. Thomas, chief spokesperson for the Smithsonian, replied:

"There are many compelling personal stories about African Americans who have become successful in various fields, and, obviously, Associate Justice Thomas is one of them," St. Thomas said in an email. "However, we cannot tell every story in our inaugural exhibitions.

"We will continue to collect and interpret the breadth of the African American experience," St. Thomas said.
Justice Thomas, a sitting justice on the nation's highest court, isn't compelling enough for a tax-funded black history museum. But Anita Hill's accusations against him are compelling enough for the decision makers.
Starr noted that several other missing black Americans, who apparently aren't worthy of mention: the late Democrat-turned-Republican State Senator Cora Brown, the first black woman elected to a state senate seat; Dr. Alveda King; Sen. Tim Scott; and writers Thomas Sowell, Walter Williams, Ken Blackwell, and Shelby Steele.
What do these black Americans have in common?