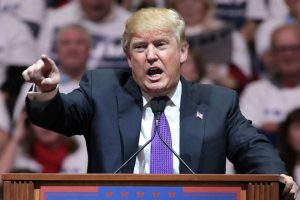 Could a flailing Donald Trump campaign hurt down-ballot Republicans and cost the party majorities in the Senate and House? That seems possible, if he loses to Hillary Clinton by a margin similar to those in most current polls and if Americans keep on straight-ticket voting as they have increasingly in recent years.The trend is startling. In 2012, only 4 percent of voters opted for Barack Obama and a Republican congressional candidate, and only 6 percent went for Mitt Romney and a Democrat. That 10 percent total was the lowest since the question was first asked in 1952.
Similarly, only 26 congressional districts voted for a presidential candidate of one party and a congressman of the other. That's the lowest such number since 1920. It's also part of a longer-term trend. Fewer districts split their tickets this way between 1992 and 2012 than in any election between 1956 and 1988.
One reason for this has been the increasing congruence between each party's presidential and congressional candidates' issue positions and priorities. With the virtual wipeout of moderate Blue Dog Democrats in 2010, there were few Romney-leaning Democrats or Obama-leaning Republicans running anywhere.
It's different this year. There's an obvious difference between the issue positions and priorities of Donald Trump and those of most Republican candidates, and not just because the latter aren't spending days denouncing Judge Gonzalo Curiel or Miss Universe. Dozens of Republican candidates, using various verbal formulations, have made clear their non-support of or distaste for the presidential nominee.
Polling in seriously contested Senate races shows that many voters are aware of this. The hyperactive octogenarians Chuck Grassley in Iowa and John McCain in Arizona — after 36 and 30 years in the Senate, respectively — are running way ahead of Trump and also of Mitt Romney's 2012 showing in their states.
Incumbent Republican senators with serious challengers are likewise running perceptibly ahead of Trump and Romney benchmarks in Florida (Marco Rubio), Illinois (Mark Kirk), New Hampshire (Kelly Ayotte), Ohio (Rob Portman), Pennsylvania (Pat Toomey) and Wisconsin (Ron Johnson). Their prospects differ, but they're resisting any downdraft.
Running more closely to Trump and Romney are North Carolina's Richard Burr and Georgia's Johnny Isakson, neither of whom has campaigned heavily in his heretofore-Republican-leaning state.
In Nevada, Republican Joe Heck is in a close race to win Harry Reid's open seat — Republicans' one chance for a Senate gain. But Heck's post-"Access Hollywood" disendorsement of Trump may be hurting him in a state whose many non-college-educated whites gave Trump a wide-margin victory in its early caucuses. Heck is running better than Romney did but no better than Trump.
Missouri and Indiana, apparently safe for Trump, have serious Senate contests. Both have large belts of Southern-accented ancestral Democratic voters and were dead heats in the 2008 presidential race.
In Missouri, Democrat Jason Kander, with an ad showing him assembling an Army rifle blindfolded, is about even with Republican incumbent Roy Blunt. In Indiana, Democrat Evan Bayh, deemed a moderate when elected governor in 1988 and 1992 and senator in 1998 and 2004, jumped into the race in July. Bayh has been hammered for his fictitious Indiana residence and for seeking lobbying work while still a senator in 2010, but he leads narrowly in the latest polls.
So personal factors and local peculiarities are shaping Senate races as in pre-Trump years. That's apparently happening, too, in House races, to judge from the sparse publicly available polling.
Republican incumbents in districts heavy with college graduates have been catering to them since before Trump appeared; those with many Hispanics have learned enough Spanish to debate en espanol. And Republicans running in districts with many non-college-educated whites (a demographic with whom Trump has been outperforming Romney) — the plains of Iowa, the north woods of Maine and Minnesota — may face no downdraft at all.
One big risk for Republicans generally is that Trump's talk of a rigged election may discourage Republican-leaning constituents from voting. And some down-ballot Republicans' adaptations to local terrain may not get noticed amid the media hubbub over the latest Trump outrage.
But so far, down-ballot contests look less like the straight-ticket battles of recent years, in which few candidates ran significantly ahead of or behind party nominees. Instead, they look more like 1970s and 1980s contests, in which many incumbents and challengers, mostly Democrats but also Republicans, continually improvised and created individual personas tailored to their constituencies and capable of distinguishing them from unpopular national party leaders.
COPYRIGHT 2016 CREATORS.COM
Photo credit: Gage Skidmore (Creative Commons) – Some rights reserved

Michael Barone, senior political analyst at the Washington Examiner, (www.washingtonexaminer.com), where this article first appeared, is a resident fellow at the American Enterprise Institute, a Fox News Channel contributor and a co-author of "The Almanac of American Politics."
The views expressed in opinion articles are solely those of the author and are not necessarily either shared or endorsed by Black Community News.