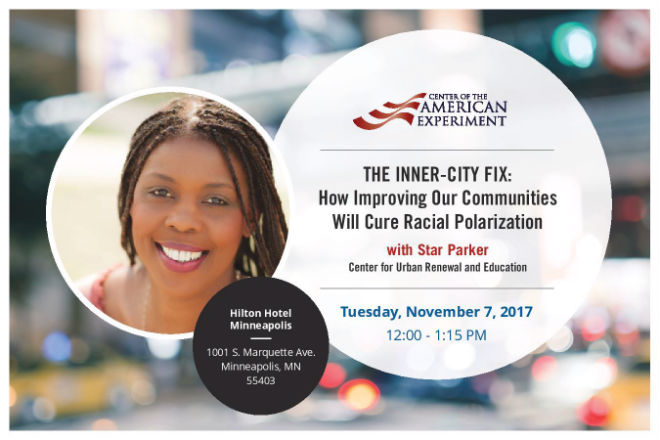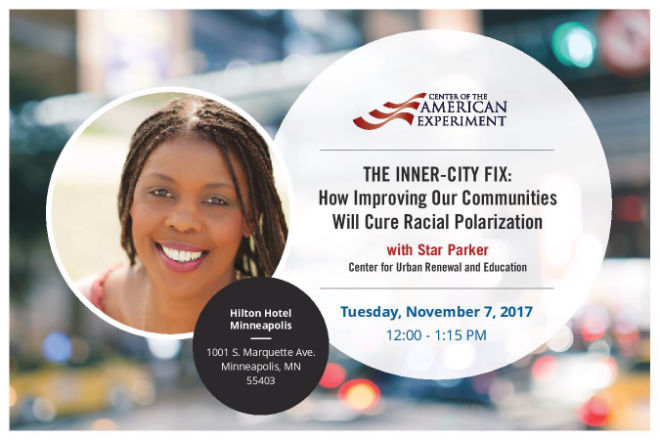 Please join Center of the American Experiment on Tuesday, November 7th at the Hilton Hotel for a lunch forum with Star Parker of the Center for Urban Renewal and Education.
This lunch will conclude the Center's 2017 forum series on why liberal policies are bad for young people.
Star Parker is the Founder and President of the Center for Urban Renewal and Education (CURE). Prior to Parker's involvement in public policy, she lived for seven years in the grip of government dependency. Her experiences on welfare led to her to play an active role in the enactment of federal welfare reform legislation in 1996.
From welfare mother to businesswoman, national celebrity and internationally-acclaimed author, Star Parker exemplifies hard work, aspiration and individual responsibility. CURE strives to lead others to follow her example and bring new energy to policy discussions in Washington.
Star is a best-selling author of four books including Uncle Sam's Plantation, which details how big government holds back America's poor and what we can do about it, as well as Blind Conceit, which offers America a path forward on racial polarization, politics and policy.
Tuesday, November 7, 2017
12:00 – 1:15 PM
Hilton Hotel Minneapolis
1001 S. Marquette Ave., Minneapolis, MN 55403
Individual Tickets $30
Available for purchase at americanexperiment.org.
Questions? Please contact Pari Cariaga at pari.cariaga@americanexperiment.org or 612-584-4557