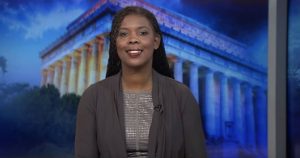 Star Parker recently spoke at the University of Louisville in Kentucky about starting her own business and how government impedes the process.
The founder and president of the Center for Urban Renewal and Education and former welfare recipient-turned-entrepreneur opened the John H. Schnatter Center for Free Enterprise's spring series on entrepreneurship with a talk titled, "USA Should Embrace, Not Over-Regulate, Entrepreneurs."
"You should be pretty thankful that you have a center at your campus to actually focus on these ideas," Parker told the audience at the PNC Horn Auditorium in the college's Harry Frazier Hall.

The former welfare recipient said she started her own business as a way to refocus her life. She soon found herself immersed in what she called an "alphabet soup" of regulations and government agencies when all she was trying to do was "buy a widget, sell a widget, and perhaps make a little money."

Stephan F. Gohmann, director of the John H. Schnatter Center for Free Enterprise, chats with students prior to Star Parker's talk that opened the spring speakers series on entrepreneurship.

Small businesses, she said, are drowning in a sea of regulations.

"Prosperity is fueled by entrepreneurs … unfettered by these meddling politicians," Parker said.

Entrepreneurs take considerable risk to start their businesses, she said, pointing to Apple Inc. as one example, and should not be penalized for earning money. "What entrepreneur would take the risk if politicians get to decide they are too wealthy?" she asked.
Star signed copies of her books: