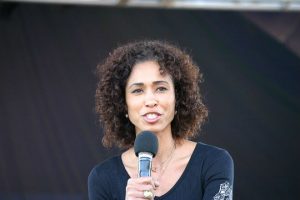 A reporter for ESPN said the worst racism she's experienced as a biracial woman married to a white man has been from black people.
"There are times that I believe that we, as African-Americans, can be hypocritical, and that is to not look ourselves in the mirror when we are saying certain things and blaming other groups for one thing when we are doing the exact same thing," Sage Steele said during a race and faith forum at The Crossing Church in Tampa.
Steele said she's received "thousands and thousands" of comments over the years from black people about her husband, "even as recent as the last couple of weeks, the words that I have had thrown at me I can't repeat here and it's 99 percent from people with my skin color. But if a white person said those words to me, what would happen?"
The NFL's Benjamin Watson, a pro-lifer who spoke at the March for Life in January, participated in the forum discussion. Former NFL coach Tony Dungy and former NFL player Warrick Dunn also participated.
Watson said he was embarrassed by the violence, looting, and destruction during the Ferguson riots.
"Can I condemn that and can I also say, 'You know what? I don't understand why it takes 17 bullets in Chicago to kill a black man on the street,'" he said. "Can I say that? They can both be true. As black people and as white people, we need to look at truth for what it is. It's not tinted or tainted by a certain perspective. It is what it is."
Dunn said that it's time blacks look at themselves in the mirror and challenge themselves to be better. He said where he grew up, blacks condemned each other and failed to hold themselves to a higher standards.
"I think it's a generational gap. This is generational — years and years and years. I think that is tough to overcome because some people just don't know any better because they are ignorant. If you take a minute to step back and not react and learn and educate yourself, you can look at life a lot different and better."
Dungy put the focus on the family.
"We have to start with ourselves and our families. We have got to teach our kids that there is a way you treat people. It doesn't matter if they're black, white, rich, poor, educated, uneducated. There is a certain level [of respect] because that is what we do, because that is what Christ says we should do. I totally agree with you. We can't expect everybody else play by certain rules and we don't. We can't expect to treat people wrongly and not expect people to treat us wrongly. I think it's got to start with us in our families and spread out."
Photo credit: By Jeff Kern – originally posted to Flickr as ESPNWeekend2010-072, CC BY 2.0, Link