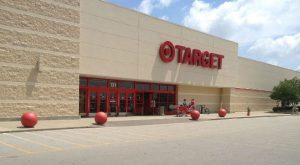 Target's CEO is digging in his heels on the "transgender" restroom debacle.
Like other liberals, he prefers to cater to the sexually confused and the opportunists, to the detriment of women and girls, who expect safety and privacy in restrooms and changing rooms in his company's stores.
But has his intransigence impacted the company's bottom line? From the Christian Post:
Target's shares are plunging in an "increasingly volatile consumer environment," though the retail giant is denying that the conservative boycott against its transgender bathroom policies is playing a big part.
…
Target's CEO admitted that a few stores nationwide have indeed faced protests over the bathroom policy, which allows employees and customers who are men according to their birth sex to use women's bathrooms, in a bid to be more inclusive.

He said that while some of those stores did take a hit in sales, as a whole he claimed that the boycott has not affected the retail giant.

"To date we have not seen a material or measurable impact on our business. Just a handful of stores across the country have seen some activity and have been impacted," he said.
Hopefully, that "handful" proliferates, and Target feels the righteous indignation of former customers across the country.
After North Carolina barred biological males from using women's restrooms and changing rooms in government buildings, including schools, various businesses and entertainers declared boycotts against the state, although some did business in countries that jail homosexuals.
Pay Pal pulls out of N.Carolina citing Facilities Law–but HQ is in Singapore:https://t.co/efu5cHDX23#Hypocrite pic.twitter.com/aJlJEHuunm

— Larry Elder (@larryelder) April 18, 2016
BREAKING: Maroon 5 just cancelled a show in NC over LGBT rights. Here's a poster advertising a 2011 show in Egypt. pic.twitter.com/FDhlY7WgJG

— Countermoonbat (@CounterMoonbat) May 20, 2016