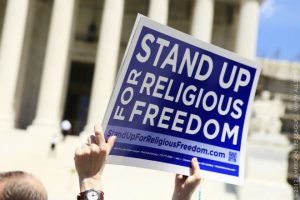 The Mississippi legislature passed a bill that protects residents from government retaliation for refusing to accept homosexual "marriage" as valid, and for believing that sex should take place only within marriage and a person's sex can't be changed.
The governor signed Protecting Freedom of Conscience from Government Discrimination Act into law on 2016.
The law prohibits government discrimination against businesses, religious organizations, and government employees who hold such religious or moral views. Citing religious beliefs, court clerks may recuse themselves from issuing "marriage" licenses, bakers may decline to make "wedding" cakes, and doctors may refuse to do "sex reassignment" surgery, for example.
Those who don't believe residents' religious beliefs should be protected sued to overturn the law. A lower court sided with the challengers, but a three-judge panel of the U.S. Court of Appeals for the 5th Circuit contended that the plaintiffs didn't have standing to challenge the law. They appealed the decision to the nation's highest court.
The U.S. Supreme Court on Monday declined to hear the case. From Alliance Defending Freedom:
Alliance Defending Freedom attorneys are part of the legal team representing Gov. Phil Bryant in the lawsuits, Barber v. Bryant and Campaign for Southern Equality v. Bryant.

"Good laws like Mississippi's protect freedom and harm no one," said ADF Senior Counsel Kevin Theriot. "The 5th Circuit was right to find that those opposing this law haven't been harmed and, therefore, can't try to take it down. Because of that, we are pleased that the Supreme Court declined to take up these baseless challenges, which misrepresented the law's sole purpose of ensuring that Mississippians don't live in fear of losing their careers or their businesses simply for affirming marriage as a husband-wife union."

"Those who haven't been and won't be harmed by this law shouldn't be allowed to restrict freedom for others by ensuring dissenters are left open to the government discrimination that has already occurred in states without protective laws like this one," Theriot explained.
Photo credit: American Life League (Creative Commons) – Some Rights Reserved