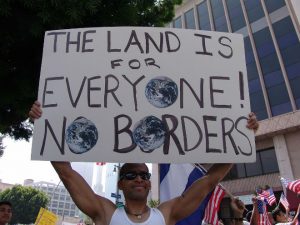 One would think that since it's illegal to enter and remain in a country without proper authorization, companies would know that hiring illegal aliens is illegal.
But we all know companies in America hire illegal aliens.
To knowingly hire an illegal alien is against the law, and employers should reasonably know or suspect that a person is an legal alien. Speaking heavily accented English or none at all is a dead giveaway, even before you get to the lack of proof of eligibility to work in the U.S.
If we can believe the Trump administration, that's about to change.
Thomas Homan, acting director of U.S. Immigration and Customs Enforcement (ICE), spoke about this problem at the Heritage Foundation. He said that as long as foreigners think "they can come here and get U.S. citizenship and not get removed, they're going to keep coming. As long as they can come here and get a job, they're going to try and come."
From the Washington Examiner:
Homan explained ICE is also going to strongly prosecute employers who knowingly hire illegal immigrant workers, in addition to deporting those workers.

The remarks came after a 30-minute-plus tirade against so-called sanctuary jurisdictions, which both President Trump and Attorney General Jeff Sessions have already pledged to end.

Homan said ICE will continue to strongly target illegal immigrants who are part of gangs. But, if someone is still undocumented even without provable gang ties, they will still be deported, he said.

"Will we continue to arrest people at courthouses? Absolutely [we] will," Homan said, adding that "sanctuary cities are releasing public safety threats back into the public. That doesn't make sense to me."

ICE will continue to arrest illegal immigrants at other various places that draw criticism, including near schools.

Churches and hospitals are not part of those enforcement sites, Homan said.
Photo credit: By Jonathan McIntosh – Own work, CC BY 2.5, Wikimedia Commons