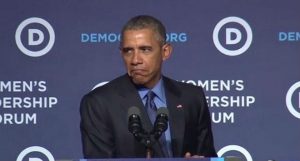 A federal court in August granted a coalition of states' request to temporarily stop the Obama administration from forcing government schools to allow men and boys to walk into women's and girl's restrooms and other private facilities.
"Without question, permitting educational institutions to provide separate housing to male and female students, and separate educational instruction concerning human sexuality, was to protect students' personal privacy, or discussion of their personal privacy, while in the presence of members of the opposite biological sex," U.S. District Judge Reed O'Connor wrote.
Additionally, the U.S. Supreme Court temporarily blocked a Fourth Circuit decision to allow the Obama administration's absurd edict to stand.
In the meantime, there's more good news for Americans who care about the modesty, privacy, and safety of their children. The Obama administration asked the same district court to limit the injunction to only the 13 states that filed suit and not allow the "transgender" restroom ban nationwide.
The court rejected the request this week. From Life Site News:
"It is clear from Supreme Court and Fifth Circuit precedent that this Court has the power to issue a nationwide injunction where appropriate. Both Title IX and Title VII rely on the consistent, uniform application of national standards in education and workplace policy," O'Connor, a George W. Bush appointee, ruled. "A geographically-limited injunction would be ineffective."

The Justice Department vowed to appeal to the Fifth Circuit Court in New Orleans if it did not prevail.

Texas Attorney General Ken Paxton, representing one of the 13 states objecting to transgender school showers, praised Judge O'Connor's decision. "The court's reaffirmation of a nationwide injunction should send a clear message to the president that Texas won't sit idly by as he continues to ignore the Constitution," Paxton wrote in a statement. "The president cannot rewrite the laws enacted by the elected representatives of the people and then threaten to take away funding from schools to force them to fall in line."
The high court likely will end up hearing the case on the merits.
Photo credit: Doc (Creative Commons) – Some rights reserved