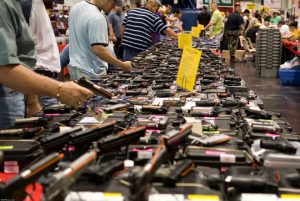 In the midst of Muslim terrorist attacks and leftist violence, more Americans are buying guns to defend themselves.
Washington Examiner columnist Paul Bedard reported that gun sales in May 2017 reached a record of 1,942,677, higher than previous numbers for that month, even after gun sales increased under Barack Obama.
The continued growth of gun sales is in stark contrast to some in the media and industry who feared that the election of President Trump would snuff out sales that in 2016 were driven in part by concerns Hillary Clinton would win and implement strict gun control and an assault weapons ban.
…
At the one of the nation's largest gun stores, Hyatt Guns in Charlotte, N.C., sales are up in reaction to safety concerns.

"We are continuing to see brisk sales of self-defense and concealed carry firearms. We're also continuing to see new gun buyers," said Hyatt Marketing Director Justin Anderson.
A gun store owner quoted in the column reminded readers that they might have only seconds to act, but the police will be minutes away.
Law-aiding citizens have a right to protect themselves and their families with guns, and all freedom-loving Americans should oppose any effort to take away this constitutional right.
Photo credit: By glasgows – flickr, CC BY 2.0, Wikimedia Commons