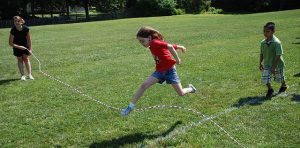 Parents in Fairfax County, Virginia, who care about their children's modesty, privacy, and safety opposed their school district's policy to allow biological males access to girls' restrooms and other intimate facilities.
The new order came in the wake of the Obama administration threatening to withhold federal funds to state schools if they didn't comply with the edict to allow "transgender" students to use restrooms designated for the opposite sex.
The school board in Fairfax County temporarily suspended its plan to comply, stating that it "determined it needs additional time to evaluate the legal issues surrounding the regulation, including a case now pending before the Supreme Court on this topic from a Virginia school district."
If parents hadn't complained, would the board have put it on hold?
From the Daily Signal:
The decision, announced in a press release Tuesday, came after the Fairfax County Public School Board held an "extensive" closed-door meeting to discuss new guidelines that the school board quietly released on July 1.

The guidelines, which would allow transgender and gender nonconforming students to use locker rooms, bathrooms, and other sex-segregated facilities based on their gender identity, caused a rift among parents in the affluent Virginia suburb.
…
Nearly two dozen states are challenging that directive in a lawsuit against the Obama administration.
Alliance Defending Freedom attorney said schools "think they have no choice" but to implement such policies. "They feel like they have to do this." What the Fairfax County school board did should send a message that's popular with leftists when it comes to killing unborn babies: choice.
More from the Daily Signal:
Opponents felt the guidelines were being forced upon families with little to no public discussion. They worried how the new regulations would affect nontransgender students, and said the school board was evading answering their questions.

For these parents, the decision to delay the new policy was a welcomed announcement. But having lost a great deal of trust with some school board members, they celebrated with skepticism.

"While it appears that the Fairfax County School Board's decision to 'temporarily put on hold' the review of the proposed transgender regulations is a victory, in reality it simply allows the board more time to strategize on how to continue to push their liberal agenda forward," said Bethany Kozma, a Fairfax County mother of three.
Unfortunately, the suspension isn't an across-the-board ban on boys going in the girls' restroom. Fairfax County will decide case-by-case whether to disregard how girls might feel about this.
By Jarek Tuszyński – Own work, CC BY 4.0, Wikimedia Commons