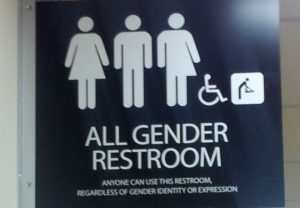 What will happen to President Barack Obama's directive to government schools to allow boys access to girls' restrooms and other facilities where they expect privacy?
As it stands, the outgoing president's "transgender" restroom order is on hold. The U.S. Supreme Court temporarily blocked a Fourth Circuit ruling to allow the order to be enforced. The court has agreed to hear arguments in the case and likely will have a new justice by that time — a conservative one.
Another federal court granted a coalition of states' request to temporarily block the Obama administration from enforcing the order.
President-elect Donald Trump can affect these pending actions by reversing Obama's directive.
Christian News Network reported that a homosexual lobby organization sued (on behalf of three students) a school district in Pennsylvania over a resolution that individuals use restrooms that match their biological sex. The district has asked the court to dismiss the suit. An excerpt:
"The term 'sex,' as codified into the Title IX statute and accompanying regulations, refers to a fixed, binary and genetically-determined sex, based on the nature of human reproduction and the irrefutable fact that we are a species of males and females," the [school district] argued. "Title IX also permits separate facilities to be maintained for the sexes."
…
The district filed for a dismissal of the suit on Monday, stating that Lamba Legal is relying on the interpretation of the Obama administration, which it asserted is flawed and "contravenes congressional intent as related to Title IX and was issued by the DOE and DOJ without appropriate notice and comment rule-making as required by the Administrative Procedures Act."
The school district used to allow male students to use girls' restrooms but changed the policy after concerned parents complained.