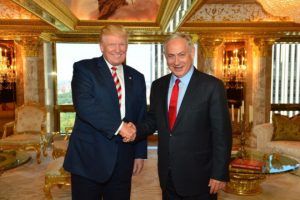 United States President Donald Trump arrived in Israel Monday morning.
Prime Minister Benjamin Netanyahu, President Reuven Rivlin, and Israeli MKs all took part in a ceremony welcoming the president and his wife.
"Mr. President, yesterday in Saudi Arabia you delivered a forceful speech on terrorism and extremism, called on forces of civilization to confront the forces of barbarism," Prime Minister Netanyahu said. "For 69 years, Israel has been doing just that. We've manned the front lines of civilization. In doing so, we've protected all faiths — Muslims, Christians, everyone. Throughout the Middle East, Christian communities are decimated. We're proud to have a growing, flourishing Christian community."
The prime minister spoke of the visit's significance to Israel-U.S. relations, stating that he's "confident that under your leadership the remarkable alliance between Israel and the United States will become ever greater, ever stronger."
In his brief welcome, Prime Minister Netanyahu added, "On behalf of the government and the entire people of Israel, we welcome you to Israel. May God bless you, Mr. President, may God bless Israel, and may God bless the United States of America."
President Trump took to the podium and thanked Israel for its warm welcome.
"In this land so rich in history, Israel has built one of the world's great civilizations, a strong, resilient, determined and prosperous nation," he said. "It is also a nation forged in the commitment that we will never allow the horrors of the last century to be repeated. Now let us build together a future where the nations of the region are at peace, and all our children can grow up strong and free from terrorism and violence."
Addressing his tour in Saudi Arabia, the president said: "During my travels in recent days, I have found new reasons for hope. I have just concluded a visit to Saudi Arabia, where yesterday I met with King Salman and leaders from across the Muslim and Arab world. In that visit we reached a historic agreement to pursue greater and greater [cooperation] against terrorism. We have before us a rare opportunity to bring security and stability and peace to this region and to its people, defeating terrorism and creating a future of harmony prosperity and peace."
VIDEO: Earlier today, @POTUS visited the Western Wall in Israel. pic.twitter.com/EsCZsE76Ei

— Fox News (@FoxNews) May 22, 2017
The president said this opportunity is only possible by "working together," and added, "We love Israel, we respect Israel, and I bring the warmest greetings from your friend and ally, all of the people of the United States of America."
President Trump will be in Israel until Tuesday. First on his itinerary is to visit with President Rivlin at his residence in Jerusalem. He will then have dinner with Prime Minister Netanyahu.
On Tuesday, President Trump will meet with Palestinian Authority President Mahmoud Abbas in Bethlehem. He will then return to Jerusalem to visit Israel's Holocaust Memorial, Yad Vashem, followed by the Israel Museum, where the president will reportedly give his speech.
Following his two-day tour in Israel, President Trump will travel to Italy to meet with the Pope in the Vatican.
Photo credit: GPO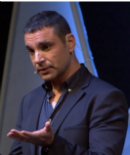 Amir Tsarfati, a Jewish Christian, is the founder and president of Behold Israel, a news site to correct the scarcity in trustworthy reportage on issues and events impacting Israel, and to resolve the uncertainty about who or what to believe.