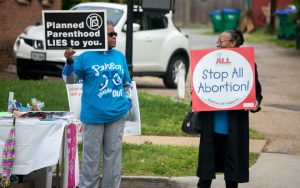 One candidate calls for Americans to pay for the deaths of unborn babies. The other seeks to permanently bar the use of tax dollars to kill unborn babies.
Hillary Clinton wants the U.S. Congress to repeal the Hyde Amendment, a measure first attached to an appropriations bill 40 years ago. Renewed annually, this law bars federal abortion funding through Medicaid.
Donald Trump announced that he's committed to making the Hyde Amendment permanent. No more annual renewal debates. If women want to kill their own unborn children, they can pay for the abortions with their own money. From a letter (PDF) Trump sent to pro-life groups:
Hillary Clinton's unwavering commitment to advancing taxpayer-funded abortion on-demand stands in stark contrast to the commitments I've made to advance the rights of unborn children and their mothers when elected president.

I am committed to:

– Nominating pro-life justices to the U.S. Supreme Court.
– Signing into law the Pain-Capable Unborn Child Protection Act, which would end painful late-term abortions nationwide.
– Defunding Planned Parenthood as long as they continue to perform abortions, and reallocating their funding to community health centers that provide comprehensive health care for women.
– Making the Hyde Amendment permanent law to protect taxpayers from having to pay for abortions.
Love him or hate him, Trump knows what pro-lifers need to hear.
Trump also announced a new campaign initiative, the Pro-Life Coalition, and selected Marjorie Dannenfelser to head it. Dannenfelser is president of the pro-life Susan B. Anthony List.
"For a candidate to make additional commitments during a general election is almost unheard of," she said. "The contrast could not be clearer between the two tickets, and I am proud to serve as National Chairwoman for Donald Trump's Pro-Life Coalition."
Photo credit: American Life League (Creative Commons) – Some Rights Reserved