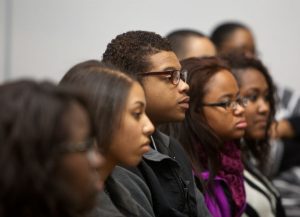 Buzzfeed reported that President Donald Trump is working on an executive order to support historically black colleges and universities (HBCUs). An excerpt (emphasis added):
It's not clear what the executive order will do, sources with knowledge of the executive order said. But the subject turned to HBCUs when Paris Dennard, a political commentator who works on strategic communications for the Thurgood Marshall College Fund, brought up the future of HBCUs during the meeting.

Trump lavished Dennard with praise for defending him on CNN when the cameras were still on. "Paris has done an amazing job in a very hostile CNN community," Trump said, deriding CNN as "fake news" he no longer watches. "He's all by himself — seven people and Paris. I'll take Paris over the seven," Trump said to laughter.

When the White House press corps left, the mood changed. Dennard told BuzzFeed News he told the president that he could go down as one of the greatest presidents in modern history, and that his support of HBCUs was badly needed — especially given how HBCUs fared under the previous administration.
HBCU presidents were less than impressed with what Obama did — or didn't do — to help their schools. The "Ivy League-educated, professorial president has shown scant understanding of the challenges their schools face, and charge he has kept them at arm's length during his presidency."
Most HBCUs were established after the Civil War to educate black Americans, as many colleges were closed to them. Some HBCUs are struggling financially (and with accreditation) today, partly because they're competing for black students with larger and better endowed colleges and universities, which has led to the question of whether HBCUs have outlived their usefulness.
On a related note, Talladega College, the school whose marching band performed in President Trump's inaugural parade — to much criticism from the anti-Trump crowd — is a designated HBCU.
Photo credit: COD Newsroom (Creative Commons) – Some rights reserved