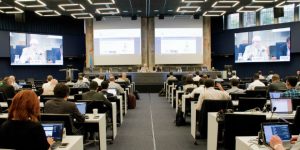 Continuing his pattern of strong and decisive action, President Trump followed the recommendations of his security advisors to block the potential takeover of an American company that would have serious consequences for our national security and America's global leadership in technology – vis a vis China. After getting advice from a government agency that the hostile takeover of Qualcomm by the Singapore based Broadcom poses potential national security risks, the President ordered a block of any such deal.
The United States and China are neck-and-neck in a global race to lead on the next generation of wireless technology – known as 5G. The winner of this race will reap substantial economic assets and infrastructure advantages for decades to come, and will set the standards for implementing this technology worldwide. America is currently in the lead on 5G, but foreign adversaries are taking extraordinary measures to unseat us as the global leader, and the ultimate victor of this race is entirely uncertain.
5G is far more than another incremental step toward a faster mobile network. This revolutionary platform will deliver the so-called Internet of Things (IoT) that allows control of machines, objects and devices like smart homes, constant health monitoring and self-driving cars. Beyond benefits to consumers, critical military and public safety applications will rely on a 5G digital infrastructure, and the U.S. government will use its capabilities to bolster its defenses. The future of American national security thus depends on the successful adoption of 5G technology.
Despite our current position, America is facing a determined challenge from foreign competitors. Most significantly, the Chinese government is funneling substantial financial and political support to its domestic technology companies, helping them to keep pace with the United States. Huawei—a China-based technology giant that is widely-known to have "extraordinary ties" to the government is making a particularly aggressive play to win the race for 5G.
Fortunately, the American company Qualcomm, undisputedly leads the world in developing the technologies that are foundational to 5G networks and devices. Qualcomm, with a tremendous focus on investing in R&D, is the only company to successfully lead in each mobile technology transition, and its technology is currently driving the 5G revolution. This is one of the primary reasons why the United States is currently ahead of China on 5G.
For that reason, the attempted hostile takeover by Broadcom raised the concern of a number of elected officials – like Sen. Tom Cotton and Sen. John Cornyn – and experts who believed it would threaten to derail America's leadership in 5G technology and standards.
Consistent with its practice in prior acquisitions, Broadcom will likely impose significant cost-cutting measures on Qualcomm and possibly sell off parts of the company, jettisoning the company's long-term R&D projects in favor of maximizing short-term revenue. Disrupting Qualcomm's industry-leading R&D efforts could effectively cede development of 5G technology to Chinese companies like Huawei and ZTE.
These concerns are not hypothetical. Broadcom has made clear its intention to change Qualcomm's R&D-heavy business in favor of short-term revenue gains. Broadcom CEO Hock Tan recently noted that he saw opportunities to "rationalize and restructure" Qualcomm's licensing business, and Broadcom's Chief Technology Officer explained that the company is "not looking at starting totally new projects where maybe five to ten years from now they may generate revenue." These statements, among other indicators, signal Broadcom's plan to end the long-term R&D work that allows Qualcomm, and by extension America, to maintain its 5G leadership advantage.
If Broadcom were to obtain control of Qualcomm, one of the most critical companies in the U.S. wireless supply chain would likely be stripped, divested, and reduced, all in the name of profit maximization and without regard for America's security. Because of these concerns, the Committee on Foreign Investment in the United States ("CFIUS")—an inter-agency panel tasked with protecting U.S. national security interests—recently delayed Broadcom's attempted hostile takeover – leading to President Trump's move to block the deal. In its order, CFIUS wrote that "a weakening of Qualcomm's position would leave an opening for China to expand its influence." President Trump followed this with his order that if successful Broadcom "might take action that threatens to impair the national security of the United States."
The Trump Administration's decision rightfully prioritized the security interests of the United States. Because if Qualcomm cannot maintain its current 5G leadership position, there is no other U.S. company that can take its place, and the void undoubtedly would be filled by a rival Chinese company beholden to the interests of its government. The result would be a serious blow to our technology leadership and our national security.
Photo credit: ITU Pictures (Creative Commons) – Some rights reserved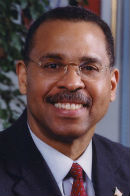 Ken Blackwell was U.S. Ambassador to the United Nations Human Rights Commission from 1991-93. He received the Superior Honor Award from the Bush(41) and Clinton administrations.
The views expressed in opinion articles are solely those of the author and are not necessarily either shared or endorsed by Black Community News.