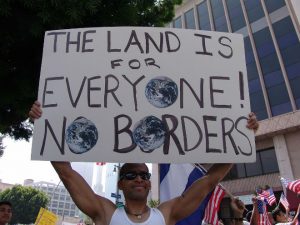 A three-judge panel of the U.S. Court of Appeals for the Fifth Circuit ruled on Tuesday that while the matter is still in litigation, Texas can target cities for failing to cooperate with federal authorities enforcing the law against illegal aliens.
Signed by Governor Greg Abbott last year, the law requires local authorities in Texas to cooperate with U.S. Immigration and Customs Enforcement agents instead of shielding illegal aliens.
BREAKNG: Texas Ban on Sanctuary City Policies upheld by Federal Court of Appeals. Allegations of discrimination were rejected. Law is in effect.

— Greg Abbott (@GregAbbott_TX) March 13, 2018
Local authorities may ask individuals about their immigration status during routine stops, but they must comply with federal requests to detain illegal aliens. Those who fail to do so can be fined, removed from their positions, or even be charged with breaking the law.
From the LA Times:
The ruling came a week after the U.S. Justice Department — which had joined Texas in defending the law known as Senate Bill 4 — sued California over state laws aimed at protecting immigrants.

"Dangerous criminals shouldn't be allowed back into our communities to possibly commit more crimes," Republican Texas Atty. Gen. Ken Paxton said in response to the ruling.

Leading the lawsuit were Texas' largest cities — including Houston, Dallas, San Antonio and Austin — in a state where the Latino population has grown at a pace three times that of white residents since 2010.
President Donald Trump was in California on Tuesday to raise funds and look at prototypes of the border wall.
California's sanctuary policies are illegal and unconstitutional and put the safety and security of our entire nation at risk. Thousands of dangerous & violent criminal aliens are released as a result of sanctuary policies, set free to prey on innocent Americans. THIS MUST STOP!

— Donald J. Trump (@realDonaldTrump) March 13, 2018
Photo credit: By Jonathan McIntosh – Own work, CC BY 2.5, Wikimedia Commons