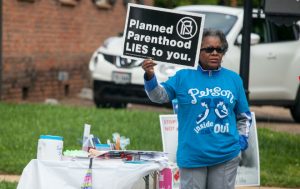 Rev. Clenard H. Childress and members of his group, Black Genocide, protest outside the NAACP's annual national conventions. He's called out the group concerned about "colored people" for failing to stand against abortion.
Black women are disproportionately represented among women who kill their unborn children, but this racial disparity doesn't seem to bother black liberals.
In an op-ed for Black News, Rev. Childress had a lot to say about so-called Black Lives Matter collaborating with abortion mill Planned Parenthood. An excerpt:
Now I say to all Americans, but especially and in particular to my African American Brothers and Sisters (of which I am one): Will you ever recognize this conspiracy against you? For the leading killer of innocent unarmed African Americans – whose hands were up, but given no choice nor chance at the American Dream their fellow African American, Dr. Martin Luther King preached about – is Planned Parenthood! Black Lives Matters has just teamed up with the most destructive racist machine in America and American history, whose founder, Margaret Sanger, was the most devout racist of her time! Paradoxically, and unbelievably, Black Lives Matters has linked itself to the abortion industry whose main target has always been Black Life and whose founder clearly had great disdain for Black Life…
Don't unborn black lives matter?
Photo credit: American Life League (Creative Commons) – Some rights reserved