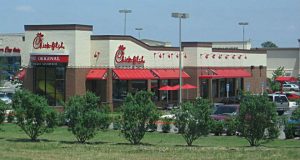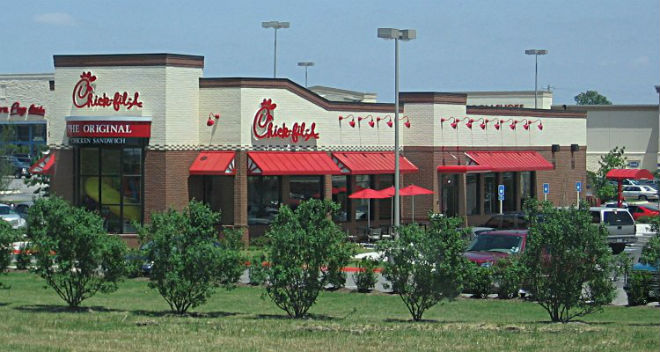 When Chick-fil-A expanded operations in the Big Apple, Mayor Bill de Blasio didn't like it. He urged residents to boycott the Christian-owned fast food restaurant because the CEO Dan Cathy (son of the founder) believes marriage is the union between only one man and one woman — a belief humans have shared for thousands of years.
A committee of the Denver City Council opposed Chick-fil-A's proposal to do business in the city's airport.
Other liberals called for a boycott against Chick-fil-A — a boycott that doesn't seem to be hurting the company's bottom line, unlike Christians' boycott against retailer Target for implementing a policy to allow men access to women's restrooms and other private facilities.
Chick-fil-A is back in the news, and liberals are once again not happy. From Fox News:
Democrats in Pinellas County, Fla., are crying fowl over the supervisor of elections' decision to hold voter registration drives at nine area Chick-fil-A locations earlier this week on National Voter Registration Day.

Susan McGrath, head of the county Democratic Executive Committee and leader of the Pinellas Stonewall Democrats, a pro-LGBT equality group, says she is all in favor of getting out the vote — just not at Chick-fil-A, the Georgia-based fast-food restaurant chain beloved for its fried chicken sandwiches and its adherence to the Southern Baptist culture of its founder by closing on Sundays. The company's CEO Dan Cathy has made multiple remarks in the past expressing a personal opposition to same-sex marriage.
McGrath said that Chick-fil-A hosting a voter drive is akin to Planned Parenthood hosting one — except that one place serves food and the other kills babies and expects taxpayers to cover the bills.
"While some Democrats may occasionally dine at Chick-fil-A (and perhaps even members of the LGBT community)," she wrote in a letter to the board of elections supervisor, "the coordination of Pinellas voter registration activities with this right-leaning business very clearly conveys that your office is targeting Republican-leaning voters."
Photo credit: CC BY-SA 3.0, Wikimedia Commons