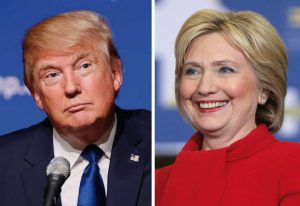 Now that Sen. Ted Cruz and Gov. John Kasich have dropped out of the GOP presidential nomination race, will Republicans unite behind Donald Trump to beat Hillary Clinton in November? From Fox News:
Trump turns next to the weighty task of uniting a fractured party and told Fox News Wednesday morning he plans to focus on November.

"We're going to unify the party," he said. "I think we're going to beat Hillary Clinton."

The coming weeks will test Trump as he recalibrates his campaign – and potentially his tone – in preparation for that fight. While one recent poll gave him the edge over Clinton, most have shown Trump trailing her in hypothetical general election match-ups.
Sen. Cruz bowed out Tuesday night after he lost the Indiana primary to Trump. The governor exited the race on Wednesday. Sen. Bernie Sanders, who beat Clinton in Tuesday night's Indiana primary, said he won't drop out. Where does that leave Clinton?
While a Trump-Clinton match-up now appears inevitable, Sen. Bernie Sanders kept the race alive on the Democratic side Tuesday night by pulling off a projected upset victory in Indiana.

"I understand that Secretary Clinton thinks that this campaign is over," Sanders said, adding that he has "bad news" for her.
Regardless, Clinton is still ahead of Sen. Sanders and appears to be the likely Democratic nominee. But do her primary woes and his determination spell trouble for her general election chances against Trump?
Photo credits: Gage Skidmore, Wikimedia Commons