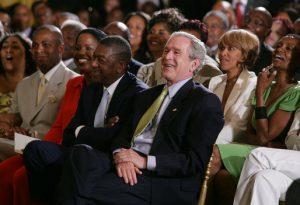 The Congressional Black Caucus (CBC) and other liberal lawmakers have little choice but to work with a Republican Congress and a Republican president.
The Politico reported that the group has "begun discussing strategies to deal with Trump and any policies they believe would disenfranchise African-Americans — from public school funding to low-income housing to voting restrictions."
But Sen. Tim Scott, black and a Republican, and Black Entertainment Television (BET) founder and Hillary Clinton supporter Robert Johnson, believe black liberals should be more open-minded.
"What I say to folks is, 'Let's give Mr. Trump a chance. Let's gauge progress in his administration by what he does," Sen. Scott said. "My hope is that what we'll do over time is we'll see that progress has not been stymied under a Trump administration, but we'll see that it has prospered."
Johnson, who met with President-elect Donald Trump in November, said that fear isn't "a strategy to increase black political gains, economic gains and social gains."
One strategy that might help is stopping illegal immigration. The president-elect has been called a racist and a xenophobe for advocating immigration enforcement. Is the CBC opposed to enforcing the country's borders? Blacks are disproportionately impacted by illegal immigration. One would think a "black caucus" would be at the forefront of alleviating their economic woes through strong advocacy for enforcing federal law.
In addition to President-elect Trump's proposed policies, the CBC criticized the president-elect's cabinet choices.
"Ben Carson, DeVos, the education nominee, those just don't fly in the face of good governing," incoming CBC chairman Cedric Richmond said. "And to the extent that they're going to be there, we're going to fight."