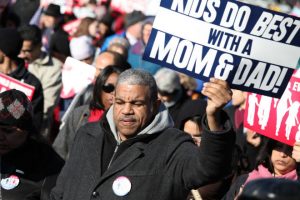 Christian leaders under the banner of The Council on Biblical Manhood and Womanhood (CBMW) recently issued the "Nashville Statement" supporting the God-ordained institution of marriage, which reflects Christ's relationship to the body of believers.
The statement reads in part:
Article 1

WE AFFIRM that God has designed marriage to be a covenantal, sexual, procreative, lifelong union of one man and one woman, as husband and wife, and is meant to signify the covenant love between Christ and his bride the church.

WE DENY that God designed marriage to be a homosexual, polygamous, or polyamorous relationship. We also deny that marriage is a mere human contract rather than a covenant made before God.
…
Article 10

WE AFFIRM that it is sinful to approve of homosexual immorality or transgenderism and that such approval constitutes an essential departure from Christian faithfulness and witness.

WE DENY that the approval of homosexual immorality or transgenderism is a matter of moral indifference about which otherwise faithful Christians should agree to disagree.
It's a beautiful statement that reflects God's design and will that no Bible-believing Christian can deny. As CBMW President Denny Burk wrote, it wasn't the group's "aim to say something new, but to bear witness to something very ancient."
Naturally, unbelievers hate it. Nashville's mayor called the statement "poorly named" and doesn't reflect the "inclusive values of the city & people of Nashville."
Repentant and redeemed people should agree with what their Creator and Savior says about sin.
I just read #thenashvillestatement for myself and I totally agree with all of it. pic.twitter.com/WW9feSjeP0

— Jackie Hill Perry (@JackieHillPerry) August 30, 2017
The statement is what the Bible teaches and what people have believed for millennia.
I would rather be Biblically Correct than Politically correct. I'm not here to please man, I'm here to please my creator #NashvilleStatement

— Deplorable Melissa (@sweetatertot2) August 30, 2017
We will continue to say it and believe, despite what the unbeliever says or does.
Of course liberals, having never cracked opened a Bible, are surprised to learn what it actually says. #NashvilleStatement

— Mark Dice (@MarkDice) August 30, 2017
Photo credit: American Life League (Creative Commons) – Some rights reserved