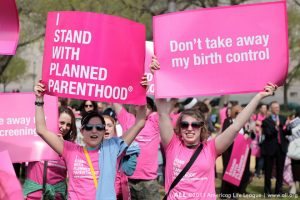 Women in the United States may kill their babies through the legal procedure of abortion.
They may use abortion as birth control if they wish.
But that doesn't give them the right to the fruits of other people's labor to pay for abortions.
Pro-lifers want Congress and state lawmakers to bar any taxpayer funding to Planned Parenthood, the abortion giant that currently receives half a billion dollars of taxpayers' money every year. And it doesn't matter if the money goes to non-abortion services. Pro-lifers don't want to pay for Planned Parenthood's water bill.
Arkansas bars Medicaid funding to Planned Parenthood. Abortion advocates who believe taxpayers should foot the bill sued the state but lost when a three-judge panel of the U.S. Circuit Court of Appeals for the Eight Circuit denied their request for an injunction. Abortion advocates appealed.
But they lost again.
The full court denied the their request on Monday to vacate the panel's ruling. From Town Hall:
Arkansas Gov. Asa Hutchinson (R) decided to end the state's Medicaid contract with Planned Parenthood in 2015 following the release of undercover videos by the Center for Medical Progress which showed the abortion group's alleged trafficking in unborn baby body parts.
…
Judd Deere, a spokesman for Arkansas Attorney General Leslie Rutledge, supported Monday's ruling in a statement to Arkansas Online.

"Attorney General Rutledge is pleased with the court's decision to deny the request for rehearing, which reaffirms that Planned Parenthood and the three patients it­ recruited could not contest in federal court Arkansas's determination that a medical provider has engaged in misconduct that merits disqualification from the Medicaid program," Deere said in an email.

Planned Parenthood will evaluate their options going forward, however, they could potentially appeal the decision to the Supreme Court as the court's decision illustrates division among federal appellate courts on the issue. Seven other states have all been prevented by federal courts from cutting off Medicaid funds to Planned Parenthood, rulings that were upheld by the 5th, 7th and 9th circuit appeals courts.
Photo credit: American Life League (Creative Commons) – Some rights reserved