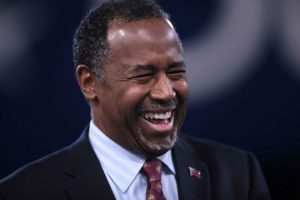 It's official.
President-elect Donald Trump has chosen Dr. Ben Carson to join his administration as the head of the U.S. Department of Housing and Urban Development (HUD).
Dr. Carson has been critical of the Obama administration's so-called anti-discrimination HUD rule, which essentially mandates "diversity" in suburban developments under the threat of withheld federal funding.
From Fox News:
Carson had recently downplayed having any role in the Trump administration, saying that he didn't know where he would fit. But in a statement on Monday, the retired pediatric neurosurgeon said he felt he could "make a significant contribution particularly by strengthening communities that are most in need."

"We have much work to do in enhancing every aspect of our nation and ensuring that our nation's housing needs are met," he said. Carson also tweeted that he would accept the position.

Carson, who had previously been rumored to be a contender for a job heading Veteran's Affairs, Education or Health and Human Services, could appear at first glance as an odd choice for HUD. However, Carson wrote and spoke about the department and issues affected by its actions numerous times during his time as a primary candidate, and he also addressed some of what may soon face him in a Facebook post last month that hinted at a HUD job offer from Trump.
Like many conservatives, Dr. Carson believes people would be better off unshackled from government dependency. He understands it well. Dr. Carson lived in government housing for a period of time as a child. Fox News quoted from Dr. Carson's speech at the 2015 Conservative Political Action Committee.
"I'm interested in getting rid of dependency, and I want us to find a way to allow people to excel in our society, and as more and more people hear that message, they will recognize who is truly on their side and who is trying to keep them suppressed and cultivate their votes."
Photo credit: By Gage Skidmore from Peoria, AZ, United States of America – Ben Carson, CC BY-SA 2.0, Link