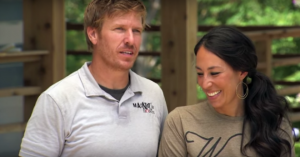 Chip and Joanna Gaines, HGTV's "Fixer Upper" show hosts and Christians, were the subjects of a Buzzfeed article in November about the church they attend and whether they'd ever feature homosexuals on the show.
The church believes what the Bible teaches about sexuality and marriage, the same truths people have believed for millennia.
The writer intended to gin up a backlash against the couple by people who seek to normalize homosexuality and profane marriage, and that's exactly what happened.
The couple had maintained silence about the matter. Christian News Network reported that Chip Gaines recently wrote on his wife's blog:
"Jo and I refuse to be baited into using our influence in a way that will further harm an already hurting world. This is our home. A house divided cannot stand…It's not about what color your skin is, how much money you have in the bank, your political affiliation, sexual orientation, gender, nationality or faith. That's all fascinating, but it cannot add or take away from the reality that we're already pulling for you. We are not about to get in the nasty business of throwing stones at each other. Don't ask us to, 'cause we won't play that way."
It's reasonable to assume Gaines is indirectly addressing the so-called controversy.
Openly rejecting homosexuality as normal and worthy of accolades, believing marriage is the union of only one man and one woman, and refusing to cave to the agenda can get you fired from your TV show or your small business plunged into bankruptcy. Daring to speak the truth and oppose the redefinition of marriage exposes you to the possibility of unemployment and loss of livelihood if you don't work for owners who refuse to allow the lobby to rule over them.
Christians are on the receiving end of a cultural revolt. We must fight this and our own government, which isn't on our side. Or hasn't been. God willing, that could change in the new administration. But at this moment in history, American Christians are in the middle of a bloodless persecution and a shameless rebellion against the Creator of all things. Yet God is still gathering those He came to save, some of whom are the ones presently doing the persecuting. That's how gracious He is, as the Apostle Paul testified.
Photo credit: HGTV video screenshot