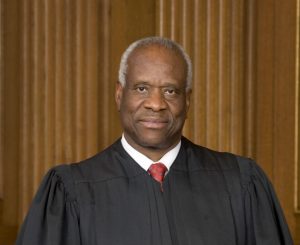 Leftists like to intimidate, Dr. Ben Carson said, and they use political correctness to do it. Dr. Carson loathes this ridiculous liberal doctrine, "one of the most destructive forces to ever hit our nation."
People who wield it aim to shut down dissent and debate. Only the disingenuous could deny it.
U.S. Supreme Court Justice Clarence Thomas also sees the absurdity in political correctness. He recently spoke at Hillsdale College's graduation ceremony.
"At risk of understating what is necessary to preserve liberty in our form of government," he said, "I think more and more it depends on good citizens discharging their daily duties and obligations. Sadly, today it seems as though grievances rather than personal conduct are the means of elevation. We must be reminded there is work to be done. The world increasingly embraces all that is wrong, false and ugly. We are among the lonely few who have all the right questions."
Younger generations also must understand that people lost life and limb to preserve the liberty they take for granted. In the most free country in the world, certain people have to invent things to complain about, searching for "racism" under rocks.
Justice Thomas told the graduates not to "hide your faith and your beliefs under a bushel basket, especially in this world that seems to have gone mad with political correctness." He went further against the grain with this piece of advice:
"I resist what seems to be some formulaic or standard fare at commencement exercises, some broad complaint about societal injustice and at least one exhortation to the young graduates to go out and solve the stated problem or otherwise to change the world. Having been where you are, I think it is hard enough for you to solve your own problems, not to mention those problems that often seem to defy solution. In addressing your own obligations and responsibilities in the right way, you actually help to ensure our liberty and our form of government."