NBC News affiliate WRAL in Raleigh, North Carolina, published an editorial cartoon that portrays state school board members who oppose Black Lives Matter's critical race theory curriculum as members of the KKK. Board member Olivia Oxendine, who opposes it, is an American Indian.
If the state allows the curriculum, children would be indoctrinated about race-based, homosexual, and "transgender" identities and taught that the traditional family should be destroyed.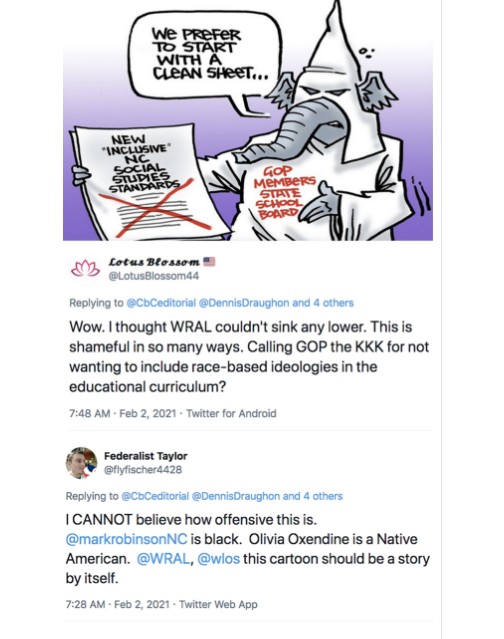 Lt. Gov. Mark Robinson also opposes the curriculum, and he held a press conference to criticize WRAL's implication that he and the rest of the GOP are bigots. Robinson said he's wholeheartedly in favor of people being able to voice an opinion, "no matter how vile someone may think it is." But he calls out WRAL's hypocrisy.
"Now here we are, second day of Black History Month, one day removed from television stations, newspapers, and other [media] celebrating February 1 down in my hometown of Greensboro, where people took a stand against racism and bigotry. And on the second day of Black History Month…the first black lieutenant governor has been portrayed as [KKK] by one of the largest news outlets in this state."
Robinson said the person who drew the cartoon is not a private individual, and the cartoon wasn't a post from someone's Facebook page. "This is a newspaper that goes out to millions of readers." He said it was his understanding that an eighth-grade social studies teacher drew the cartoon. If true, the person is "teaching these falsehoods."
Robinson said WRAL, which would stand for racial equality, didn't even know when he was sworn into office. The cartoon doesn't really bother him, he said. WRAL's hypocrisy bothers him. The organization portrayed a black man as a Klansman because he's in the GOP. He said his office isn't going to stand for it. He's not going to go along to get along. He reminded people that the GOP didn't support the KKK. Watch the full press conference for more.
Note: WRAL issued a statement about the offensive cartoon:
Editorial cartoons are creative and provocative, using hyperbole and satire. No one believes Republicans on the State Board of Education are members of the Ku Klux Klan. The editorial cartoon by Dennis Draughon is meant to point out that these members of the State Board are trying to wipe out from the social studies curriculum the record of racism which includes the Klan and the segregationist practices that were imposed in our state and nation's history."