Despite representing only 13% to 14% of the U. S. Population, Black Americans account for over 35% of all abortions in the country (http://bit.ly/2hrRecC). That 35% represents 128,682 Black Americans who were deliberately denied the freedom accorded to them by way of our Constitution and brutally murdered. And these numbers are understated.
According to the latest Abortion Surveillance report from the Centers for Disease Control and Prevention (CDC), these numbers legally do not include the data from twenty-three (23) states (i.e., reporting areas), including California where more abortions are performed than in any other state in the United States of America.
Nor do these numbers include chemical or "over the counter abortions." And if this isn't bad enough, Black women have the highest abortion ratio (420 abortions per 1,000 live births). That's almost one (1) abortion for every two (2) live births.
And on top of all of this, I'm now hearing Planned Parenthood is pushing "chemical abortions."
ANY WAY you look it the data…
At this rate Black Americans won't last.
Without LIFE … Nothing Matters … does it?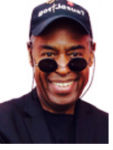 Walter B. Hoye II is the founder and president of the Issues4Life Foundation, the founder of the California Civil Rights and the Frederick Douglas Foundations of California, and proponent of the California Equal Rights Amendment.