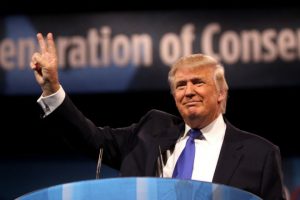 Republicans now have the White House and retain control of the Senate and the House of Representatives.
After a contentious election that divided Republicans, political outsider and populist candidate Donald Trump won the race. For those who wondered whether the GOP was demographically finished in the White House, the party found a way to pull it off.
Love him or hate him, that way was Trump.
Polling between Trump and Hillary Clinton was tight, and the race was always going to be close. But when Trump took Florida, North Carolina, Ohio, and Pennsylvania, the party was over for Democrats.
Trump's message resonated with disaffected voters so strongly that five previously blue states flipped to red: Florida, Iowa, Ohio, Pennsylvania, and Wisconsin.
The question is, will Republicans get things done? They can, but will they? From the Washington Times:
Mr. Obama has been warning U.S. voters that Mr. Trump would undo everything that he has achieved over the past eight years, from Obamacare to international agreements on climate change and trade, to the Iranian nuclear deal.

"Everything we've worked for is on the ballot," the president said at a rally for Hillary Clinton Monday in North Carolina.
Let's hope Trump rolls back everything Obama has achieved in the past eight years.
The GOP now has the opportunity to repair the damage Obama has done. Repeal Obamacare. The veto threat is gone. Enforce immigration laws and take amnesty in any form off the table. Limit immigration from Muslim countries and strengthen the vetting process. Defund Planned Parenthood. And much more.
In his victory speech last night, Trump spoke of unity.
"It is time for us to come together as one united people. I pledge to every citizen of our land that I will be president for all the citizens and this is important to me."
That is all well and good, but improving the lives of working Americans trumps "unity." The GOP needs to get moving and keep those promises to voters.
Photo credit: Gage Skidmore (Creative Commons) – Some rights reserved