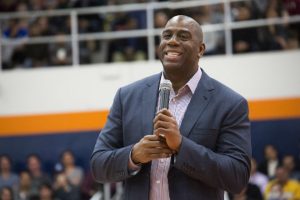 ESPN recently re-aired a three-part documentary about the long rivalry between two storied NBA basketball teams, the Los Angeles Lakers and the Boston Celtics, and their two marquee players, Magic Johnson and Larry Bird, respectively.
After another devastating Laker loss, this time in the 1984 finals, Laker star Magic Johnson said he felt so disappointed, in part, because he let down blacks. So many black fans were pulling for him, including, he discovered, many black residents of Boston.
As a Los Angeles native, I, too, wanted the Lakers to win. But how did the Lakers of the era become the "black team" and how did the Bird-led team become the "white team"? Sure, the Celtics were led by Bird — a white player — but the Celtics' coach, K.C. Jones, was black, as were several key players, including guards Dennis Johnson and Gerald Henderson, as well as center Robert Parrish and forward Cedric "Cornbread" Maxwell. Meanwhile, the Lakers' head coach was Pat Riley, a white man.
No doubt many whites pulled for Bird because he's white. As a white friend and Larry Bird fan once told me, "White people have pride, too." And no doubt that many black people pulled for Magic Johnson over Bird because Johnson is black. Who cares? Something can be racial without being racist. One black Celtic player said it bothered him that some blacks considered him to be playing for a "white team." But another black player, M.L. Carr, said he could not have cared less about the black-versus-white nonsense and just wanted to beat Los Angeles.
It's also worth noting that Bird never played into the "Great White Hope" nonsense. When an opposing ballplayer, Isiah Thomas, suggested that if Bird were a black player he "would be just another good guy," Bird did not take the bait. He could have fired back and accused the black player of racism. But he wanted nothing to do with what he perceived as a media-made controversy. When the player apologized, Bird accepted it, and that was that. Bird said: "The main thing is that if the statement doesn't bother me, it shouldn't bother anybody. If Isiah tells me it was a joking matter, it should be left at that. The NBA is sometimes not the easiest thing to be in, and after a game like that, in the heat of the locker room, it's probably not the best time to talk to us. I've answered a lot of questions about it, and talked about it to my family, and they still love Isiah Thomas."
Now how about a little perspective?
In 1950, the first black player entered the NBA. The '60s saw the breakout of black superstars like Bill Russell, Wilt Chamberlain, Oscar Robertson, Elgin Baylor, Walt Bellamy, Hal Greer and many more. Fast-forward to today. As of 2017, 75 percent of the roughly 500 players in the NBA are black. Of the 30 coaches in the NBA, eight of them — 27 percent — are black.
Jackie Robinson, the first black baseball player in the modern major leagues, said, he, too, felt pressured to live up to the expectations of black America. He had good reason. There were zero blacks playing in the major leagues at the time he entered in 1947. There was a belief among many whites, and probably blacks, too, that black ballplayers just could not compete against whites. That's pressure.
Robinson faced hostility from teammates and opponents, many of whom attempted to physically harm him while playing. At that time, pre-television, baseball — along with boxing and horse racing — occupied a much bigger stage for the attention of the American public. Excruciating pressure was on Robinson, because what he represented and what he meant to millions of black Americans transcended baseball.
Because of pioneers like Jackie Robinson, we can now pretty much sit back and just watch a good game. Politics can wait a few hours.
During their playing days, Johnson and Bird became good friends. Since their playing days, their friendship has deepened. Bird even stunned Celtics fans when, after a tough loss, Bird — during the post-game press conference — conceded that Johnson was "the best I've ever seen." Turns out, when the noise died down, Bird just wanted to beat Johnson, whom he respected as a player and as a man. Johnson just wanted to beat Bird, whom he respected as a player and as a man. And that's how it should be.
COPYRIGHT 2018 LAURENCE A. ELDER
DISTRIBUTED BY CREATORS.COM
Photo credit: CSUF Photos (Creative Commons) – Some rights reserved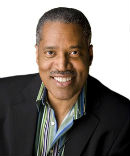 Larry Elder is a bestselling author and radio talk-show host. To find out more about Larry Elder, or become an "Elderado," visit www.LarryElder.com. Follow Larry on Twitter @larryelder.
The views expressed in opinion articles are solely those of the author and are not necessarily either shared or endorsed by Black Community News.