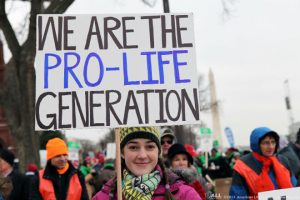 Pro-life students at a government school in Sacramento, California, decided that since the administration allowed students to walk out of class to protest a constitutional right, they want to walk out to protest what the U.S. Supreme decided was a constitutional right 45 years ago.
The Second Amendment right to keep and bear arms should be weakened, gun grabbers believe, but the "constitutional" right of privacy to kill one's own unborn child should be protected. Quite a contrast, and an atrocious and sad shift in our culture.
Students at one high school on the left coast would like to do a "walkout" to protest violence in the womb, the convenience-based killing of the voiceless and vulnerable unborn every day across the country.
From CBS 13:
This week, Rocklin High School students are using social media to organize a pro-life walkout using the hashtag #life.

"To honor all the lives of aborted babies pretty much. All the millions of aborted babies every year," said organizer Brandon Gillespie.

He says his history teacher inspired the idea.

As thousands of students across the country walked out of class demanding strict gun laws, in honor of the Parkland shooting victims, [history teacher Julianne] Benzel was placed on paid administrative leave when she asked students to consider whether there's a double standard in the national school walkout.

"I would like a conversation about when is too much? And are we going allow this on the other side?" said Julianne Benzel
Disciplined for questioning the anti-gun rights narrative of the government school and challenging students to think critically. No doubt anti-gun rights teachers loudly made their views known and weren't punished for it.
The school's principal told CBS he plans to meet with the students on Friday about their request to protest an act that destroys other human beings.
Photo credit: American Life League (Creative Commons) – Some rights reserved