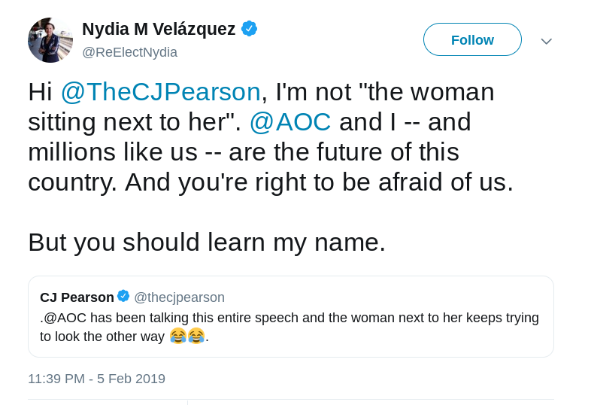 Government should fear the people, not the other way around. Nydia Velázquez, elected by the people to the U.S. House of Representatives, should brush up on her history. Many Twitter users responded to what they perceived as a threat.
Correct me if I am wrong, but didn't we have an entire war and write the most epic Dear John letter (aka The Constitution) so we wouldn't be afraid of those who govern us? I think you have that backwards. I could be wrong though. It has been known to happen.

— Tie-fixer Extraordinaire 👔 (@knc2000us) February 6, 2019
That "Dear John" letter is the Declaration of Independence.
Breaking away from Great Britain, colony representatives wrote that "whenever any Form of Government becomes destructive of these ends, it is the Right of the People to alter or to abolish it, and to institute new Government, laying its foundation on such principles and organizing its powers in such form, as to them shall seem most likely to effect their Safety and Happiness."
The colonists had had enough of King George III and declared themselves free and sovereign and fought a war for their independence from British rule. That elected officials would have the temerity to even joke about how the "the people" should be afraid of them, let alone intend to strike actual fear, is a serious red flag against their fitness for public and taxpayer-supported office and their oath to protect and defend the U.S. Constitution.
Velázquez needs to re-read — or read for the first time — this document. And study it.
What kind of so-called "leader" would say you should fear us? That's tyranny. You're wrong. We don't fear you at all. We The People have defeated much worse than you before and We will do it again. Tyranny always ends up on the ash-heap of history. #MAGA

— Michael Burdett (@918REALTOR) February 6, 2019
United States Citizens should NEVER fear politicians. This tweet is deeply disturbing.

— Julie Betts (@JulieLvsPACKERS) February 6, 2019
Why should he be afraid of you? You wouldn't be threatening him with government power like leftists have done since Lenin, would you?

— Nick Searcy, INTERNATIONAL FILM & TELEVISION STAR (@yesnicksearcy) February 6, 2019
This is an elected member of Congress telling us we should be AFRAID of her.
This is how dictators think, folks: The government doesn't serve the people, the people bow down & live in fear of the gov.
Don't take them lightly…they are potentially very dangerous.#SOTU

— Rachel Ward (@RachelWard301) February 6, 2019
From someone who actually lived under socialism and not an American liberal's romantic idea of it:
Sad part about this congresswoman is that no matter how many countries are destroyed by socialism, of which i have lived and worked in a few, elected fools and corrupt elites like her will always push that ideology because it will always put power in her hands and not the people

— Spearhead Defense (@spearheaddef) February 6, 2019
The responses are gold. Follow the thread here. Here's one more:
This boy @thecjpearson is also the future of this country. The future of the country isn't women, nor is the future of the country men. It is all of us, and nothing else. #Equality

— Joe (@Joe__Byrnes) February 6, 2019
Featured photo credit: By Rhododendrites – Own work, CC BY-SA 4.0, Link