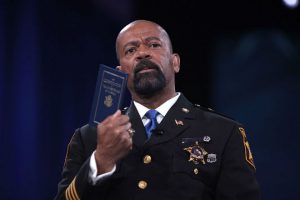 Often seen on FOX News defending the police and berating liberals, Sheriff David Clarke of Milwaukee County is in the news after an in-the-field encounter with a drunk, loud, and disorderly black passenger on an airplane.
The outspoken lawman took care of business by detaining the man on a flight from Wisconsin to Charlotte, North Carolina. From the Washington Times:
The Milwaukee County Sheriff's Office said in a press release that Sheriff Clarke was on the flight from Milwaukee to Charlotte, North Carolina, when the man became "intoxicated, loud and profane and began harassing flight crew and passengers."

The sheriff eventually got out of his seat and told the man to "chill out," the release said. "Several times during the flight he yelled to everyone that Sheriff Clarke was on the plane," it continued.

When the plane started taxiing, "Sheriff Clarke again got out of his seat and approached the obnoxious passenger who tried to get up. Clarke ordered him to sit down and when he refused, Clarke shoved the unruly passenger face down and pinned him against the seat and held him there until the flight arrived at the gate," the release stated.
Why I cuffed a drunk passenger on a flight – and why you should be concerned that I had to https://t.co/cinq4BHMZ4 via @SheriffClarke

— David A. Clarke, Jr. (@SheriffClarke) September 26, 2016
The passenger, who knew who the sheriff was, used a racial epithet and said he wasn't "one of of us." A liberal? Good.
An anonymous passenger who witnessed the incident said Sheriff Clarke "handled himself extremely well. It could have gotten a lot worse because the guy was not backing down."
According to the sheriff department's press release, the sheriff was disappointed that there were no air marshals on the plane to take over.