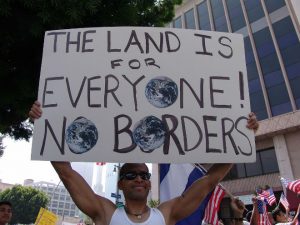 President Donald Trump is open to offering 1.8 million illegal aliens a pathway to citizenship if he gets $25 billion to begin building the wall on the southern border, an end to chain immigration beyond spouses and children, and the demise of the so-called diversity visa lottery.
It is a compromise, but is it a concession too far? Is this what the president's voters want?
From the Daily Signal:
The group of 1.8 million illegal immigrants exceeds the 800,000 illegal immigrants brought to the country as minors who were shielded from deportation under President Barack Obama's 2012 Deferred Action for Childhood Arrivals, or DACA.

Those 1.8 million illegal immigrants would be on a path to citizenship that the White House estimates would take 10 to 12 years, and would involve work, education, and character requirements.

"Amnesty comes in many forms, but it seems they all eventually grow in size and scope. Any proposal that expands the amnesty-eligible population risks opening pandora's box, and could lead to a Gang of Eight style negotiation. That should be a non-starter," said Mike Needham, CEO of Heritage Action for America, in a statement.
Senator James Lankford, a Republican, said that ignoring "immigration problems" are a form of amnesty and believes this proposal is a "a solid framework for immigration reform that provides a responsible solution for DACA, border security, and other immigration issues."
Does the GOP have a choice? In any case, liberal lawmakers are more concerned about amnesty for illegal aliens and less about border security. No "America first" for them.
My statement on the White House immigration proposal: pic.twitter.com/Xh1YKNtRYY

— Senator Dick Durbin (@SenatorDurbin) January 26, 2018
The immigration plan announced by the White House tonight is a complete nonstarter. Pitting young Dreamers against immigrant families runs counter to the values of our country.

— Kamala Harris (@SenKamalaHarris) January 26, 2018
It would be far cheaper to erect a 50-foot concrete statue of a middle finger and point it towards Latin America. Both a wall and the statue would be equally offensive and equally ineffective and both would express Trump's deeply held suspicion of Latinos. https://t.co/R8g4iRHzYX

— Luis V. Gutierrez (@RepGutierrez) January 25, 2018
What do you think?
Photo credit: By Jonathan McIntosh – Own work, CC BY 2.5, Wikimedia Commons