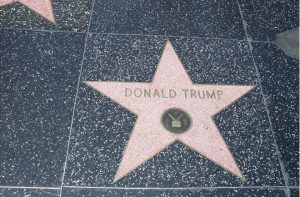 During the 2016 presidential campaign, a man dressed like a construction worker, carrying a pickax, destroyed Donald Trump's sidewalk star on the Hollywood Walk of Fame. The Hollywood Chamber of Commerce promptly replaced it. Just three weeks ago, a different man, presumably with a different pickax, also destroyed Trump's star.
Meanwhile, the neighboring West Hollywood City Council (an independent city) passed a unanimous resolution urging the Hollywood Chamber of Commerce (which selects who receives a star) and the City of Los Angeles (where the public sidewalk tourist attraction resides) to remove the star.
The resolution read: "Starting with the 2016 presidential election a number of disturbing instances concerning Mr. Trump's treatment of women came to light," the statement reads. "Similar to how certain members of the entertainment community have been removed from the Academy of Motion Pictures, due to their actions toward women, reflecting a stance on their values by the Academy, this is an opportunity for decision-makers to take a stand on their values in support of women and against disturbing treatment of women. It should be noted that Mr. Trump's star on the Walk of Fame has been destroyed in the past, and has been replaced by the City of Los Angeles using taxpayer funds."
Goodness. It's a good thing the mayor of West Hollywood does not have a star. He has been accused of sexual harassment by a former lover turned staffer, making sexually provocative statements to other City Hall employees and making derogatory comments about women.
In response to West Hollywood's request, the Hollywood Chamber of Commerce said they would review the resolution. But the chamber's president, Leon Gubler, issued the following statement:
"Once we receive a communication from the City of West Hollywood, it will be referred to our Executive Committee for consideration at their next meeting. As of now, there are no plans to remove any stars from the Hollywood Walk of Fame. The West Hollywood City Council does not have jurisdiction over the Hollywood Walk of Fame."
Out of 2,600-plus stars on Hollywood's famed sidewalks, surely there are candidates more deserving of removal than President Trump's.
There are the obvious ones. Bill Cosby stands convicted of sexual assault, and is accused by 60 women of rape and sexual abuse. And, ironically, right next to Trump's star is the star of Kevin Spacey, who has been accused of statutory rape, serial sexual harassment and abuse.
There is Gig Young, the winner of an Academy Award for best supporting actor for the movie "They Shoot Horses, Don't They?" He murdered his fifth wife before turning the gun on himself. The star remains unblemished.
There is bandleader Spade Cooley, who has the distinction of being the only star on the Walk of Fame to be convicted of murder. He beat, stomped and choked his wife to death.
There's Brett Ratner, accused by several women of serial sexual harassment, sexual assault and rape.
The Beatles' John Lennon admitted to physically abusing and hitting women.
Joan Crawford, according to her daughter's autobiography, was a monstrous mother who physically and emotionally abused her adopted child.
Michael Jackson was surrounded by controversy all his life, often spurred by his peculiar tastes, friendships and behavior. Accusations against him ranged from child endangerment for bizarrely dangling his son, Blanket, over a balcony railing, to standing trial on child molestation charges.
Roscoe "Fatty" Arbuckle was accused of raping and accidently killing an actress, who fell ill at a party he hosted and died four days later.
Arnold Schwarzenegger apologized for the instances of sexual harassment that he admittedly engaged in, including unwanted groping and fondling.
Oliver Stone claimed that because of "Jewish domination of the media" the Holocaust is over-represented in films and on TV, and he described Jews as "the most powerful lobby in Washington." He also defended Adolf Hitler as "an easy scapegoat throughout history and it's been used cheaply. He's the product of a series of actions."
Jerry Lee Lewis married his first cousin's daughter when he was 22 and she was 13 years old. The third of his seven wives, he reportedly abused her both physically and emotionally.
Wesley Snipes was found guilty of tax evasion for failing to pay taxes for three years and owed the IRS about $7 million. He served two and a half years in prison, plus a few months under house arrest.
Don Cornelius was arrested on a felony domestic violence charge for spousal abuse against his estranged wife. He originally pleaded not guilty, but later changed his plea to no contest.
John Drew Barrymore had a long history of drug and alcohol abuse, serving jail time for both. Long estranged from his family, he faced charges of abuse and violence, including domestic violence.
They're going to run out of pickaxes.
COPYRIGHT 2018 LAURENCE A. ELDER
DISTRIBUTED BY CREATORS.COM
Photo credit: By mark.watmough from Toronto, Canada – Donald Trump, CC BY 2.0, Link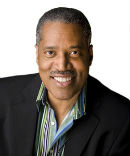 Larry Elder is a bestselling author and radio talk-show host. To find out more about Larry Elder, or become an "Elderado," visit www.LarryElder.com. Follow Larry on Twitter @larryelder.
The views expressed in opinion articles are solely those of the author and are not necessarily either shared or endorsed by Black Community News.