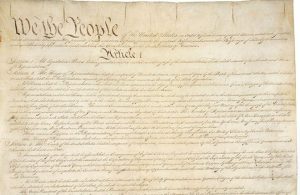 Now that Republicans will dominate all three branches of the federal government, 33 governorships, and 32 state legislatures, will they attempt to amend the U.S. Constitution?
To amend this founding document, a two-thirds majority of the House and Senate can propose an amendment, or two-thirds of the states can call for a constitutional convention. If three-quarters of the states ratify the amendment, it becomes part of the Constitution.
Texas, which led a coalition of states challenging the soon-to-be-ex President Barack Obama's illegal alien amnesty and "transgender" restroom schemes, appears to be leading the way to initiate changes to the Constitution. Governor Greg Abbott spoke at his state's Capitol on Tuesday. From Dallas News:
"It is you the people who are the answer to what ails America," Abbott told the revved up audience. "This may be our last chance to get this right."

Abbott's speech came as Rep. Rick Miller, R-Sugar Land and Sen. Brian Birdwell, R-Granbury, filed bills that would add Texas to a so-far short list of states calling for a constitutional amendment to restrict the powers of the federal government.

The governor began calling for a convention of the states in January, and has promised to make the issue a priority during the 2017 legislative session, which starts Jan. 10.
Gov. Abbott issued a plan for nine amendments last year, changes that would limit central government's power.
Among the amendments Abbott suggested are requiring Congress to balance the budget, prohibiting Congress from regulating state activities and allowing a two-thirds majority of the states to override U.S. Supreme Court decisions.
President-elect Donald Trump could end up appointing more than one Supreme Court justice during his tenure. With the GOP dominating high offices in the states, Gov. Abbott's efforts might come to fruition.