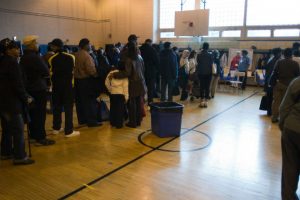 The College Fix featured a black college student named Jimmie Williams, whose family and friends voted for Democrats.
How many black Republicans and conservatives have similar stories?
They grow up supporting Democrats, because that's what black people do.
But then you start questioning why you're voting for liberals and whether you truly support the party's platform.
"On April 1, 2015, I officially switched from the Democratic Party to the Republican Party and I never looked back," Williams told The College Fix. "A lot of black people, if you ask them in private about how they feel on certain issues, the vast majority of them have a conservative mindset … when it comes to abortion, gun rights, education, the growth of the economy, and jobs — but they have to stick to the path or hell will rain on them."
Williams said black liberals have called him "Uncle Tom," "coon," and other epithets for blacks who openly oppose Democrats.
"When it comes to racism from blacks to other blacks, many seem to live in a fantasy world where a lot of blacks can't consider themselves to be racist," Williams said. "In the black community we have become the race of double standard, hypocrisy, the most sensitive race, and the insecure race when it comes to a lot of things — especially race."
Liberals' love of "diversity" doesn't extend to values or political preferences.
Photo credit: David Goehring (Creative Commons) – Some rights reserved