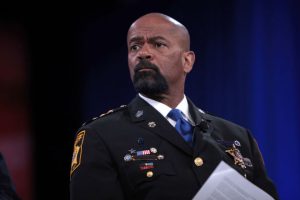 The special "safe space" snowflakes at the University of New Haven won't tolerate a tough-talking, police-supporting lawmen like Sheriff David Clarke.
He wrote that the school rescinded an invitation for him to speak at a forensics conference later this month.
The sheriff said Patrick Malloy, a senior lecturer at the school, heard him speak on one occasion. Impressed, Malloy invited Sheriff Clarke to be the keynote speaker at the conference.
Then the university uninvited him. Why?
"Apparently, the higher-ups did not want me to speak on campus due to my remarks abou #BlackLivesMatter," the sheriff wrote. "What did I say that was so controversial? I'm not sure what specific remarks drove them to uninvite me, but anyone who listens to me for five seconds knows I prefer to drop the 'v' and call them #BlackLIESMatter. They terrorize the police, lie about their true mission, promote anarchy like the old Black Liberation Army, and released a list of "demands" that included releasing known cop killers."
Sheriff Clarke said he will continue to speak out against the group he refers to as BlackLIESMatter.
"I was going to be talking about forensics, not social issues — but apparently the University of New Haven believes its students are incapable of handling debate… or even my presence. It's time for those in higher education to grow a spine. Whatever happened to the marketplace of ideas?"
The school responded with this:
"When the University disinvited me — telling my assistant the reason was because of my stance against #BlackLIESMatter, I was okay with it," Sheriff Clarke wrote. "I was working this event into an already full schedule. But the cowardly official response from the school is just too much."
Photo credit: Gage Skidmore (Creative Commons) – Some rights reserved